Overnight storms, wind gusts of up to 70 mph lead to tree and fence damage
FRISCO, Texas - It was a rough and rowdy night for weather across parts of North Texas. Some people also have a mess on their hands thanks to the strong winds.
In one Frisco neighborhood near the Hillcrest and Lebanon roads, trees limbs were snapped in half and branches were scattered across the road.
Some residents had their fences knocked over and a few found damage to their homes. A stop sign was even bent towards the ground.
Homeowner Jill Steele said when the winds picked up her gate and fence were thrown around.
"It was as if the winds just picked up so fast and it was such a powerful... it felt like it was blowing in the door. Nothing happened. I mean, nothing came in but the wind it was just so sudden and so strong and there was something about the pressure in our ears because we all said, 'What was that?'" she said.
Given that wind gusts reached close to 70 miles per hour in the area, residents are grateful there wasn't any more significant damage.
In the town of Cresson, which is about 25 miles southwest of Fort Worth, SKY 4 spotted some roof damage to a mobile home. Someone's boat was damaged by mangled sheet metal and several other places had minor damage in the area.
FOX 4 viewer Steve Briley from Cleburne shared pictures of his fence blown down with some dime to quarter-sized hail in his yard.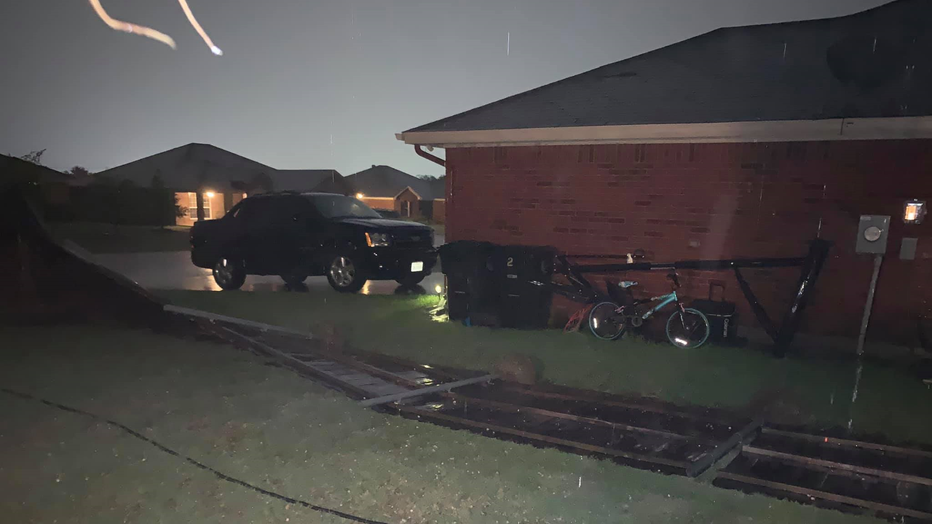 Not far from there, Johnson County's road maintenance building was damage. Garage doors were blown out and the wind blew over a carport that knocked down a power pole across the road.
The high winds also knocked over a semi-trailer that had been permanently parked on the side of the road.
Oncor said the power was out for about 18,000 customers overnight. By 6 a.m. Wednesday, only about 2,000 customers in Dallas, Collin and Denton counties remained without power.
There no reports of any injuries.