Officer-involved shooting after chase leaves suspect dead, 1 critically injured
DALLAS - Police are investigating after a Bedford officer shot and killed a man after a chase overnight Friday that ended in Dallas.
The department said the suspect opened fire multiple times, injuring an innocent driver.
This started around 1:30 a.m. Saturday, when Bedford police officers tried to pull over a suspected drunk driver who was speeding on Highway 183.
Police said the driver refused to stop and then fired shots at officers who were in pursuit.
Dallas County Sheriff's Department deputies heard the shots fired in the area and joined the pursuit on I-35. Dallas police officers also assisted. 
Bedford police said the driver came to a stop in the 2200 block of N. Stemmons Freeway and began firing at officers. A passenger in the car got out and surrendered. 
Police said a driver in the area was struck by the gunfire from the suspect and transported to Parkland Hospital in critical condition.
Other cars in the area were struck by gunfire, including the squad car of a deputy. 
A Bedford police officer returned gunfire and struck the driver. He was pronounced dead at the scene. 
At this time, the suspect's identity is not being released.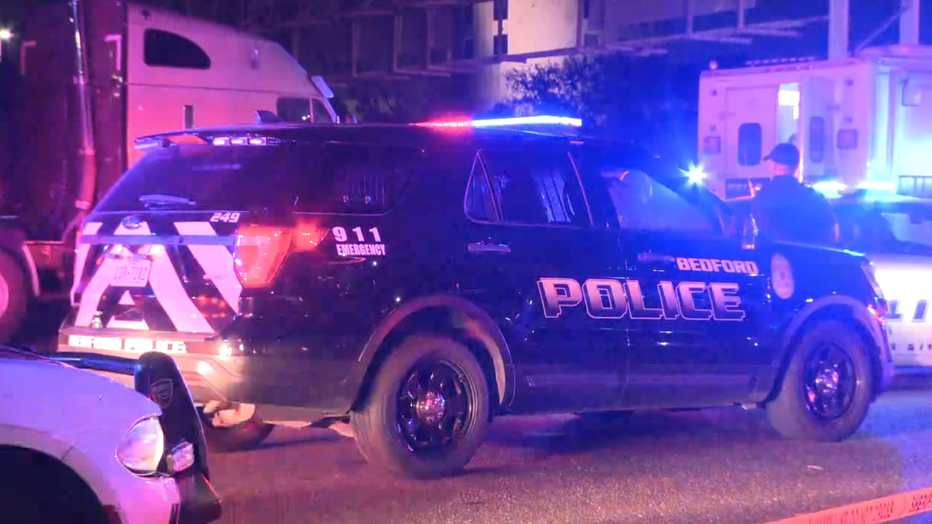 It is unclear if the passenger that surrendered is facing any charges. 
There were no deputies or officers injured.
Cathleen Parker, who is from Houston, was staying in a nearby hotel with her husband Friday night. 
Both woke up to multiple rounds of gunfire.
"They acted very quick. They shut everything down. As it was happening and I was hearing gunfire, people are trying to get by, probably scared," she recalled. "And they are trying to go in the furthest lane because it's happening near the concrete wall, near the feeder. They are scared, trying to get past it and they don't know what to do."
READ MORE: Dallas PD officer arrested in Lancaster for displaying AR-15 style rifle during argument
Parker said she saw police officers getting out of their cars and telling innocent drivers to turn around and go against the flow of traffic to get to safety.
After the shooting, the freeway was shut down for several hours.
Dallas police and the Dallas County District Attorney's Officer are investigating the incident.