One dead in Mesquite apartment fire, arson investigation underway
MESQUITE, Texas - Detectives are investigating a deadly apartment fire in Mesquite as a murder.
The two-story Tradewind Apartments on Tradewind Drive near Highway 80 caught fire around 2:30 a.m. Dozens of firefighters worked to put out the multiple-alarm fire.
READ MORE: Controlled burn sparks 800-acre wildfire near Possum Kingdom Lake
There was a sad gathering as neighbors watch the body of 69-year-old Eddie Johnson being removed from his charred apartment building where a fire was deliberately set."
This is arson because it caused a death, and it was set intentionally," said Mesquite Police Lt. Brandon Ricketts. "That would be a murder, so we're working a murder."
The fire that killed Johnson destroyed 12 units. Nearly 30 people lost it all.
Among them was Marcus Sanders. His apartment was adjacent to where the fire started. He lost everything, including two vehicles. But his pain is not on what he lost, but who.
"I'm hurting even more because this guy I grew up with like an uncle, he didn't make it out," he said.
Johnson was known around this Mesquite neighborhood.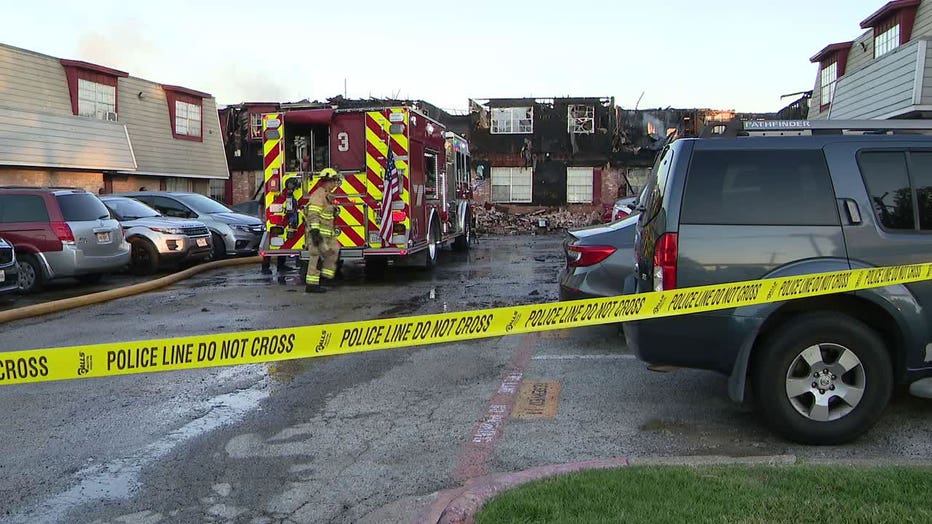 "I've been knowing him about three or four years," said barber Torenzo Scott. "Used to come, wash the cars and stuff for us at the barber shop all the time. He was a good dude."
Folks who live there say the fire was started outside another apartment because of a soured relationship, but police would not confirm that.
Police did say Johnson was a completely innocent victim.
"It does not appear that this intentional fire was started at Mr. Johnson's apartment," Ricketts said. "So we do not believe that he was an intended victim of this arson."
Ex-wife Velma Siler lives in the same complex with her daughter and grandson who wanted to go see the fire but couldn't get to the back area where Johnson lived.
"He didn't make it out. They say he didn't make it. They got everybody out but him," she said. "He was a real sweet person. Got along with everybody. He never met a stranger. He gave the shirt off of his back. He loved detailing cars."
The exact cause of the fire is still under investigation.
No arrests have been made.