NWS confirms at least 3 tornadoes from Friday's storms in North Texas
PARIS, Texas - National Weather Service survey crews have confirmed at least three tornadoes in North Texas from Friday's storms.
Damage was found that is consistent with a "high-end" EF-3 tornado in Lamar County. The second tornado was an EF-2 near Athens in Henderson County, with max winds up to 115 mph. 
On Sunday, a NWS survey team confirmed a tornado in Hopkins County, southwest of Sulphur Springs. It was an EF-2 with max winds up to 120 mph.
Possibly the hardest hit area was in northern Lamar County in and around Paris.
"Probably in the hallway, I'd say," 17-year-old Jovann Buhler said.
He recalled where his family's home of 15 years used to be.
"This is the closet right here," he added.
That was before an EF-3 tornado destroyed it while they were inside Friday afternoon.
"This is where we were hiding. There was another closet right here, but that's right next to the door," he said.
Cell phone video shows Buhler, his parents, and three younger siblings on top of their home's debris moments after the twister hit.
"I was in my bed just laying around watching TikTok," Buhler recalled.
Buhler's father alerted the family.
"'Hey everyone, in the closet,' so we all got in the closet," he recalled.
The tornado ripped through their home.
"So I blacked out. The wall hit me in the face. I blacked out. I wake up, there's a brightest light I've ever seen," Buhler recalled.
Buhler, who said he was certain his life was ending, then said a prayer.
"Just Lord, take my soul, because that's the only thing you can do in that situation," he said.
But somehow Buhler made it through.
"As soon as I stood up, I thought I was in that field," he recalled.
The 17-year-old said the tornado was in and out within seconds.
When he crawled out from underneath the pile of debris, he didn't see his home, so he thought he was thrown in a field across the street. Then he realized that his home was leveled.
"We're all OK. That's all that matters to me, honestly," he said.
RELATED: Storms bring rain to the Metroplex, with tornadoes reported in eastern counties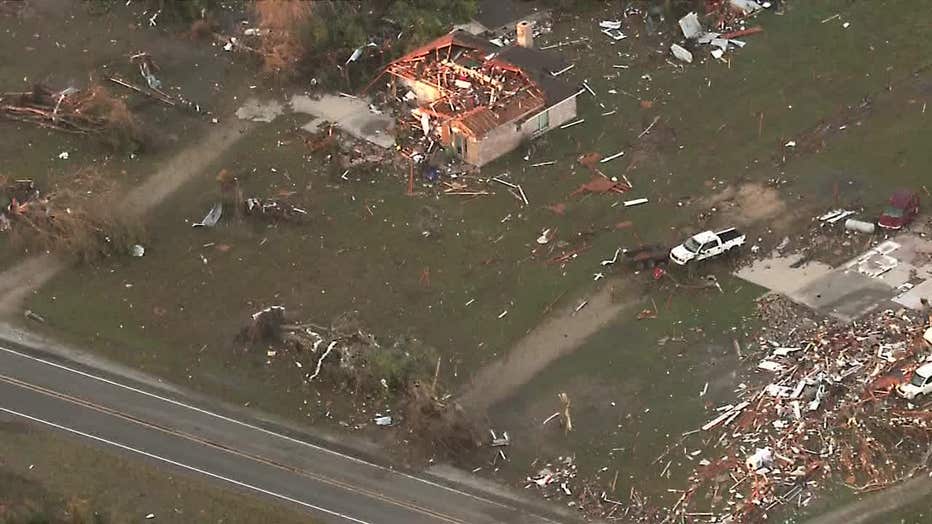 Sky 4 video revealed damage across Lamar County.
Officials said 13 people were treated for injuries due to the EF-3 tornado, with wind speeds up to 160 miles per hour, but no one was killed.
"No persons are reported unaccounted for at this time," Lamar County Emergency Management Coordinator Quincy Blount said. "As of right now, we currently have 41 structures that suffered major damage. We have 32 structures that were destroyed."
"Many people's lives have been disrupted by the storm," Lamar County Judge Brandon Bell said. "But, at the same time, the Lord's been good to us."
Emergency crews and residents are helping each other pick up the pieces, according to the sheriff. 
"That's resilience and that's purpose," Lamar County Sheriff Scott Cass said.
As for Buhler, even without a home, he feels blessed.
"That's the only reason I'm here today, because God said I have other plans for you," he said.
He feels blessed to be with family, who are now as close as ever.
"I was trying to look for my family, yelling, saying, where are you?" he recalled. "That's the only thing that matters."
Now, they are as close as ever, and still mesmerized at how they survived the twister.
"We shouldn't have survived that," Buhler said. "I thought I was [a goner]."
NWS crews were out at several locations where there were tornadoes reported during Friday's storms. 
They surveyed two areas Saturday, and were in Hopkins County Sunday.
Another tornado touched down in the Sulphur Springs area in Hopkins County, causing extensive damage to some homes. The storm passed through the area around 5:30 p.m. Friday.
NWS confirmed an EF-2 tornado in Hopkins County.
Video showed a home that was destroyed by the tornado near the intersection of FM 1165 and FM 1567.
The cars and trucks parked at the home were crushed under the home. Trees in the yard were toppled. The family that lives there had to be rescued.