North Korea fires missile which lands in sea off Japan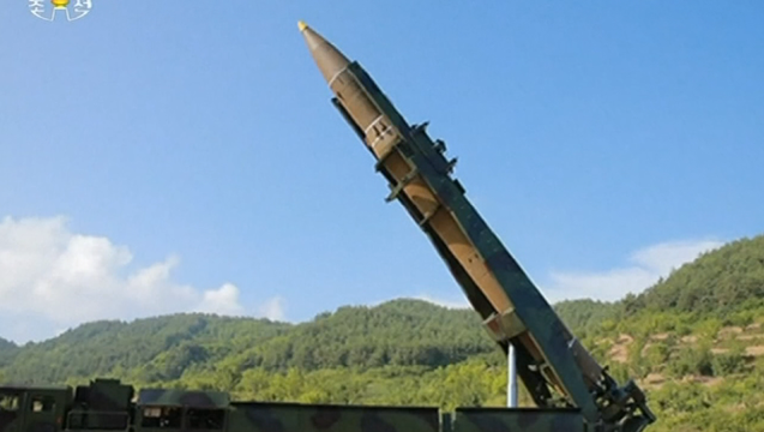 TOKYO (AP) - North Korea launched a ballistic missile Friday night which flew longer than any of its previous missiles and landed in the ocean off Japan, according to officials from Japan, South Korea and the United States.
Japanese government spokesman Yoshihide Suga said officials were analyzing whether it was a second test of an intercontinental ballistic missile. On July 4, North Korea test-launched its first ICBM in a major step toward its goal of developing nuclear-armed missiles capable of reaching the United States.
Suga said the missile launched Friday flew for about 45 minutes - about five minutes longer than the ICBM on July 4 - and landed west of Japan's island of Hokkaido. He said Japan has lodged a strong protest with North Korea.
"North Korea's repeated provocative acts absolutely cannot be accepted," he said.
Japanese public broadcaster NHK said the coast guard issued safety warnings to aircraft and ships.
South Korea and the United States also confirmed the launch.
"We are assessing and will have more information soon," said Pentagon spokesman Navy Capt. Jeff Davis.
South Korea's Joint Chiefs of Staff said the missile was launched from North Korea's northern Jagang province. President Moon Jae-in was presiding over an emergency meeting of the National Security Council, Moon's office said.
There was no immediate confirmation of the launch by North Korea. The day's broadcast on state-run television had already ended when the news broke at around midnight Pyongyang time.
July 27 is a major national holiday in North Korea called Victory in the Fatherland Liberation War Day, marking the day when the armistice was signed ending the 1950-53 Korean War. That armistice is yet to be replaced with a peace treaty, leaving the Korean Peninsula technically in a state of war.
North Korea generally waits hours or sometimes a day or more before announcing launches, often with a raft of photos in the ruling party newspaper or on the television news. North Korean leader Kim Jong Un is usually shown at the site to observe and supervise major launches.
Late night launches are rare. North Korea usually conducts its missile and underground nuclear tests in the morning. It's likely the North launched the missile at night and from the remote province of Jagang to demonstrate its operational versatility. To have a real deterrent, it's important for North Korea to prove it can launch whenever and wherever it chooses, making it harder for foreign military observers trying to detect their activities ahead of time.
Yoji Koda, a retired admiral in Japan's Maritime Self Defense Force, said in an interview with NHK that information that the missile flew 45 minutes and landed west of Hokkaido suggests that it was most likely another ICBM.
Analysts say the "Hwasong 14" ICBM launched by North Korea on July 4 could be capable of reaching most of Alaska or possibly Hawaii if fired in an attacking trajectory. It was launched at a very steep angle, a technique called lofting, and reached a height of more than 2,500 kilometers (1,550 miles) before splashing down in the ocean 930 kilometers (580 miles) away.
___
Associated Press writers Mari Yamaguchi in Tokyo, Hyung-jin Kim in Seoul, South Korea, Eric Talmadge in Pyongyang, North Korea, and Robert Burns in Washington contributed to this report.