Nine tornadoes confirmed from Sunday night outbreak across North Texas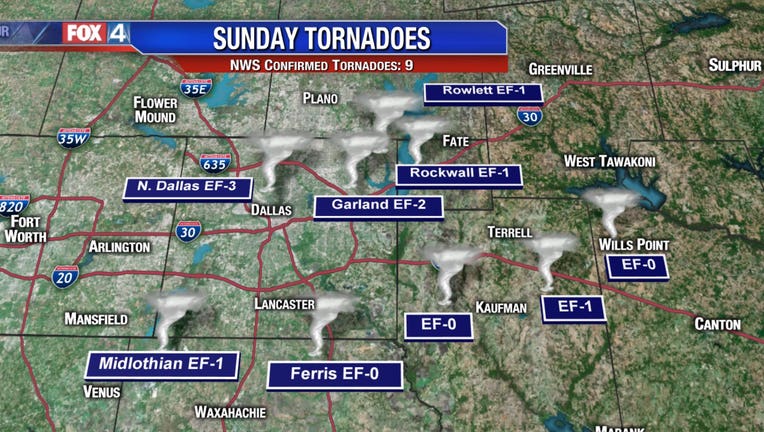 DALLAS - The National Weather Service has confirmed that a total of nine tornadoes hit North Texas on Sunday night.
The newly confirmed tornadoes include: an EF-2 in southwest Garland with estimated winds of 135 miles per hour, an EF-1 tornado in Rockwall with estimated winds of 90 miles per hour, an EF-1 near Midlothian, an EF-1 in Kaufman County, an EF-0 in Kaufman County and an EZ-0 near Ferris.
Tornadoes previously confirmed included the mammoth EF-3 tornado in North Dallas, an EF-1 tornado in Rowlett and an EF-0 north of Wills Point in Van Zandt County.
The EF-3 tornado that hit North Dallas was by far the most destructive. The National Weather Service says it left a path of destruction for nearly 16 miles and did the most damage when it first formed.
The city of Dallas says 104 structures were destroyed, meaning more than 100 homes, businesses, schools or city buildings. The city says nearly 290 more were severely damaged and nearly 500 suffered minor or minimal damage.
SKY4 flew over some of the damage in the Ferris, southeast of Dallas on Tuesday. The high winds caused a large silo on Main Street to collapse into itself. The storm also ripped up roofs and knocked over trees.
Ellis County officials praised first responders and a community that is now focused on recovery.
"You gotta have good people and that's one thing that we have down here in Ellis County and Ferris. We come together down here. We come together as a team. We work together with first responders the sheriff's office, the municipalities, the nonprofit organizations step up big," said Judge Todd Little, Ellis County Director of Emergency Management.
The state has issued a disaster declaration to move recovery resources into position in Dallas. But in order to receive federal assistance, there has to be major destruction or damage to at least 800 homes not covered by insurance. There are more than 700 homes and businesses with more than minimal damage.
Meanwhile, Gov. Greg Abbott has issued a disaster declaration for 16 counties affected by Sunday's storm. They include Dallas, Collin, Rockwall and Tarrant counties. That declaration helps make state resources available to local governments.
Able Preciado and his daughter, Harmoni, live in an apartment with windows busted out and no power. They're among the people who came to the Willie B. Johnson Recreation Center in Hamilton Park to get groceries from the North Texas Food Bank.
"And we know that produce is actually pretty expensive in grocery stores," said Valerie Hawthorne with the North Texas Food Bank. "So we're out here to deliver to the community."
Dallas County constables delivered, literally, to people shut in.
Lacey Gardner was inspired to help.
"It's nice for us to see everybody coming together to help out," she said.
Dallas City Councilman Adam McGough has met people who have driven up to an hour and a half from Athens, Texas, to clean up.
"It's just been amazing, all the response," he said.
Southwest of that area between Forest and Royal, volunteers have stepped up. Neighbors are helping neighbors and contractors have been hired to put boards on broken windows and tarps over exposed roofs. Limbs lay at the end of almost every yard.
Dallas County Judge Clay Jenkins joined Good Day Tuesday morning with an update.
"I declared the disaster yesterday because that would speed out of state help to Oncor to get your power back on. But whether or not we'll get that FEMA aid, the small business loans, that depends on whether the state hits the threshold of $38.4 million in uninsured losses. And we are working hard to gather those losses from affected areas," Jenkins said.
The city has hired outside contractors to help pick-up all of the storm debris. There are still traffic lights that are out and gas meters that are shut off.
Oncor officials said there were about 16,600 people still without power as of Tuesday night, down from 100,000 after the storm hit.