New basketball court at Paul Quinn College also serves as a Dallas history lesson
DALLAS - A new basketball court at Paul Quinn College is more than just a place to shoot hoops. 
It's a symbol for the HBCU to remember where it came from and where it's going.
There is build-up to the unveiling.
"So being able to play in this gym, it's going to mean a lot to me because, like he said, I'm a senior," said student Simone Carmenar.
The excitement at the college is surrounding new hardwood. 
"Came here straight out of high school," said student Spencer McElway. "One thing I can assure you is that each year I've been here at Paul Quinn, it's found a way to better itself."
The HBCU's latest campus addition is a uniquely designed basketball court inside the university's health and wellness center.
It's a court with a built-in history lesson.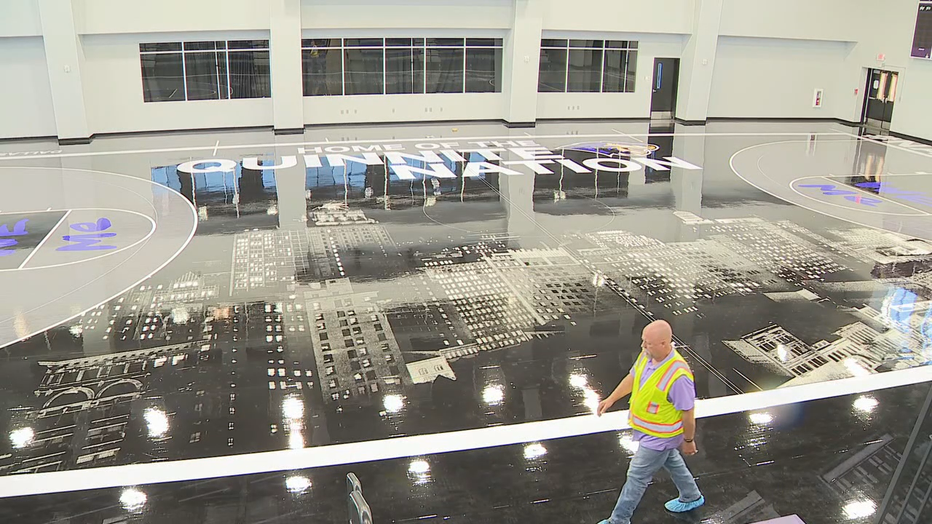 "I did a bunch of research to figure out what's going on at Paul Quinn? What makes it worth investing in?" said designer Ryan Parker.
Historic images of the Dallas skyline during the 1920s are ingrained on the floor.
According to Paul Quinn President Dr. Michael Sorrell, the depiction is a reminder of a time before racial integration.
"Those of us at Paul Quinn College, we really weren't welcome in Downtown Dallas. That was the Jim Crow South.
But also an acknowledgment of how far the school has come. 
In a follow-up interview, Dr. Sorrel, who worked closely with the court designer, explained further why the historical reference is so significant.
"We are going to build our path forward on this uncomfortable history," he said. "He went back and looked at our institution and looked at what we stand for, looked at what we mean to this community, look at how we advocate for our community and said, 'Let's turn this into a history lesson,' And that's what it is."
The new court replaces the old playing floor inside the campus gymnasium. It will now become the volleyball facility.  Paul Quinn basketball now has a new home.
"When people walk out on this court, when they see it while sitting in the stands, more than anything else I tried to communicate this is a place that is worth investing in," Parker said.