Navarro County DPS trooper hurt in crash making quick recovery
NAVARRO COUNTY, Texas - A DPS trooper critically injured during January's icy weather is sharing the story of the accident that nearly killed him.
Trooper Curtis Putz was investigating a crash in Navarro County in January when another car slid on the icy highway, causing a terrifying chain of events.
Curtis enjoyed some much-needed fresh air Tuesday.
The 42-year-old husband and father has been inside Baylor Scott & White in Dallas ever since he was rushed here by ambulance on Jan. 31.
"I was balled up underneath the Tahoe, and I couldn't breathe," he recalled.
Curtis was run over by his own SUV while investigating a crash on I-45 in Navarro County.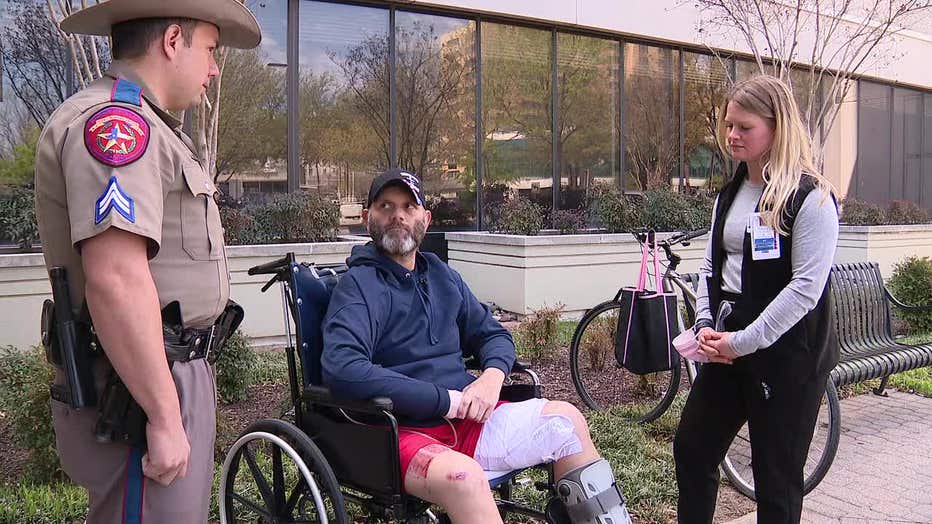 Texas state troopers take injured colleague's daughters to Daddy-Daughter Dance
It was icy that day and another car skidded into his cruiser, which in turn, ran over him. The tire went across his body, breaking both femurs and my pelvis as well as his arm and several ribs.
The 16-year DPS veteran was trapped for 14 minutes. When he arrived at the hospital, Curtis had severe internal bleeding. He underwent emergency surgery to stop the bleeding and was then put in a medically induced coma.
His recovery has been hard.
"My progression is unbelievable. That first day standing up was awesome," he said.
Curtis still needs help getting up because he can't put any weight on his right leg. He's also undergoing skin grafts.
While at the hospital, Curtis was forced to miss the last daddy-daughter dance with his two girls, ages 10 and 11. His fellow troopers stepped in and made sure the girls had a memorable night.
Curtis' wife, Tosha Putz, talked about the touching gesture on social media.
"It was a very emotional, happy moment," she said. "They picked them up, and bought them a corsage. It was really special."
Curtis is determined to get strong and get back to his family, which also includes a 6-year-old son. He says he's got a great team of doctors, nurses and physical therapists who he knows will help get him there.
"Baylor Scott & White is awesome. They put me back together," he said. "They didn't think I was going to make it when I came in here. Multiple people told me that, but here I am today."
Curtis will soon be transferred to the rehab center where his recovery will continue for weeks. He says he's focused on building back muscle.
Despite the traumatic event, Curtis said he absolutely wants to get back to being a state trooper.