Euless PD detective killed by suspected drunk driver while driving with family
LAKE WORTH, Texas - An off-duty Euless Police Department detective is dead after authorities said his vehicle was hit by a suspected drunk driver in Lake Worth Saturday afternoon.
Detective Alejandro "Alex" Cervantes served the Euless community for nearly seven years.
Police said a woman and two kids in Cervantes' vehicle were also injured.
According to Lake Worth police, the fatal crash happened just after 1:30 p.m., near Boat Club Road and Rocky Point Trail.
Investigators found that a drunk driver ran a red light and broadsided Cervantes' vehicle, which had his family inside. Cervantes was pronounced dead. A woman and two children were rescued from the vehicle.
Police said the woman is in critical condition, while the two children were taken to a hospital with serious injuries.
Dylan Molina, 26, has been charged with intoxication manslaughter and three counts of aggravated assault. Police said Molina tried to flee the scene.
A group of people who witnessed the crash ran to help.
"I just booked it, you know, crossed the street," Brandon Williams recalled.
"First thing I did was take off running over there and try to help the family out," Anthony Oeltjen said. "Sometimes I just wish people would stop and think about their decisions before they do them."
"It was one bad decision that led to another bad decision that culminated in a loss of life," Lake Worth Police Chief J.T. Manoushagian said.
Police say Molina was drinking at a Fuzzy's Taco Shop in Lake Worth.
He hit a car while leaving, then sped away.
The fatal crash happened just down the street.
Police said he was driving at a high rate of speed when he ran the red light.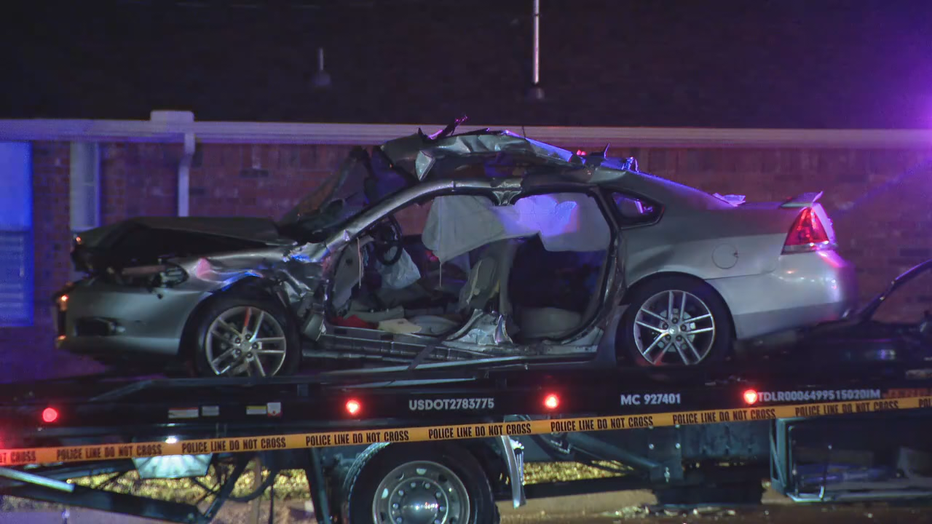 He tried to run away after the crash, but neighbors tackled him and held him until police arrived.
Officers smelled alcohol on his breath and said he tested significantly above the legal limit. 
"You have a family, a generation that's changed forever because of that series of poor decisions," Manoushagian added.
Witnesses said the driver was aggressively kicking a squad car door while inside.
"He was so belligerent drunk that he didn't want to go to jail and I don't know if he was thinking about the decisions that he's made," Oeltjen recalled. "Why he was trying to kick the door open or what it was."
Police said Molina's decision to drink and drive took an innocent life and may have destroyed the lives of others.
"First time I've ever seen anything like that and the last time I ever want to see anything like that," Oeltjen said.
"You know, as a father, I don't ever want to see anything like that," Williams said.
The road was shut down for several hours as police continued their investigation.
READ MORE: Dallas woman walking her dog killed by potential street racers