Juvenile to be charged with murder in shooting at Arlington apartment complex that killed brothers
ARLINGTON, Texas - Arlington police said a 16-year-old is likely to be charged with murder for the shooting at an apartment complex Friday that resulted in the death of two teen brothers.
The shooting happened just after 1:30 p.m., at the Artisan at Rush Creek Apartments off Sublett Road. Police said it started with an argument at a barbershop which escalated to gunfire at the nearby apartment complex.
RELATED: Brothers, 13 and 17, killed in shooting at Arlington apartment complex
Family members said siblings 13-year-old Josh Williams and 17-year-old Kaleb Williams were killed in the shooting. A third teen was also injured in the shooting.
"And we believe the brothers were waking back toward their apartment when the other three individuals either went around the building or somehow met back up to them. There was another escalation of the argument and that's when shots were fired," said Arlington PD Deputy Chief Christopher Cook. "The juvenile that ended up jumping in a vehicle with a family member, based upon the erratic driving that we observed, they thought that the car may be involved so officers made a traffic stop in the neighborhood. When they went up to the car, they determined he was shot in the shoulder and was trying to get to the hospital."
The murder weapon was found at the suspected killer's home. A third gun found might belong to one of the other two people police are looking for.
"We found a firearm at the fence line. We still believe two people are outstanding because they ran off. We don't have them identified," Cook said.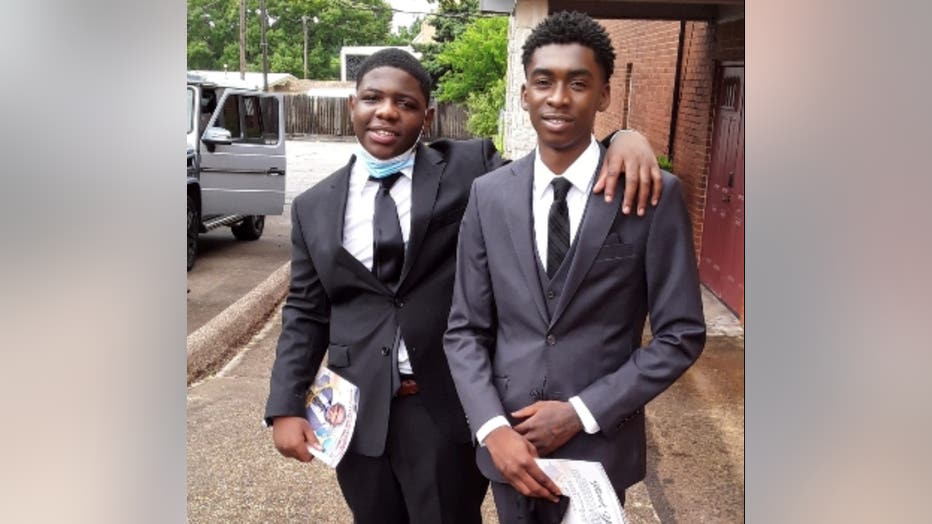 Multiple teens were detained following the shooting, and police said one of them will likely be charged with murder after being released from a medical facility.
Further details cannot be released about the suspect because of the suspect's age. Police are also searching for two other suspects.
"Anybody with a human heart I feel has been touched by this," said Tina Dorsey, who lives in the apartment complex.
Dorsey spoke with the parents of the murdered boys.
"It's no words. The only thing I could offer was hugs and I asked them, do you want a hug? And they did. And I prayed with them because it's going to be some hard days. Very hard days ahead," she said.
Neighbors are sick of gun violence.
"Those we're babies, man, one of them was 13. It's a lot of stuff he could've did that he'll now never get to do," Frederick Summers said.
Summers didn't know the teenage victims, but as a father himself, he put together a memorial Saturday, and is now planning weekly cookouts for neighbors to come together and spread a message of peace.
"At least trying to leave them with a positive message. Whether they listen to it or not, you did your part, you know what I'm saying," he said.