Man who decapitated wife has bond set to $500K, documents say her head was in the shower
HOUSTON - Court documents reveal new information on the man who confessed to killing his wife in their home on his parent's property.
Jared James Dicus, 21, was charged with murdering his 21-year-old wife Anggy Diaz who he just married in October 2022. According to the Waller County Sheriff's Office, deputies were called out to the home around 4:18 p.m. by family members. Sheriff Troy Guidry says she was found inside a second home behind a residence in the 200 block of Oak Hollow Boulevard west of Magnolia.
SURVEILLANCE VIDEO: Waller Co. murder: New surveillance video captures alleged murder suspect stealing beer from convenience store
According to court documents, Diaz was found on the floor near the bed in a pool of blood with multiple stab wounds in her back. The documents also stated, "what appeared to be the head of the victim to be in the shower."
Waller County Sheriff Troy Guidry says Dicus's father immediately called the police when they found the victim. "They [the parents] were addressed by the suspect [husband] and when they saw something wasn't feeling right for them, they approached the house that they were living in, and that's when they found what they found," he says.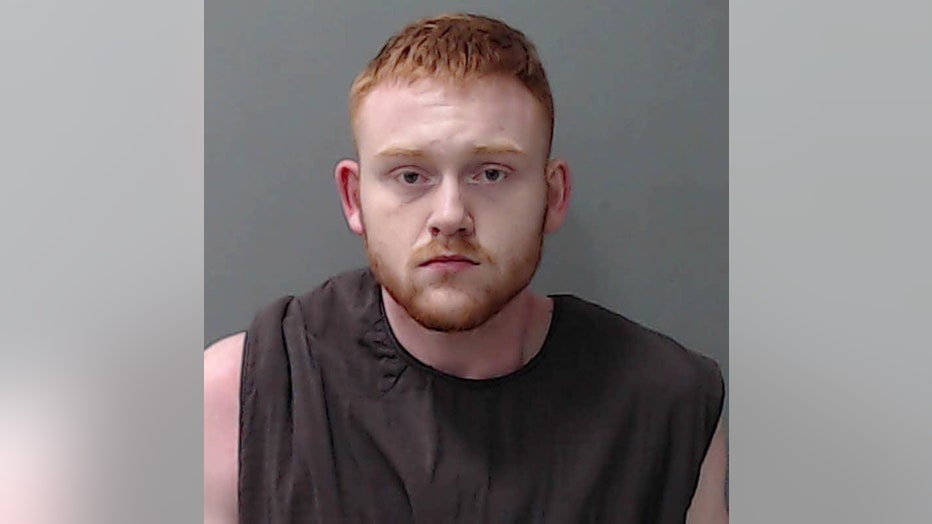 Jared James Dicus, 21 (Photo Courtesy of Waller County Sheriff's Office)
The family was said to be detained and relocated to the sheriff's office when police arrived. When the husband was brought back to the sheriff's office for a witness statement, he gave a confession officials said.
SUGGESTED: Woman, 21, decapitated in Waller County allegedly by new husband: 'parts and pieces were recovered'
Sheriff Guidry says evidence showed a kitchen knife was used in the murder. "Everything happened on the property. And all parts and pieces were recovered and submitted for evidence."
Recent surveillance video captured the moments after police say Dicus committed the murder.
In the video provided to FOX 26, you can see Dicus walking into a convenience store just before noon on Wednesday. He appeared to steal a beer, walk past the counter without paying, and then open the beer in the parking lot. Convenience store workers said the time stamp on the video is off by about an hour. 
Reports say Dicus had his bond set to $500,000 on Friday morning.
The motive behind the murder is still under investigation.