Irving rapper 2G.Kaash arrested on murder charge
DALLAS - Local rapper 2G.Kaash, whose legal name is Ghazi Harris, is facing a murder charge over the January killing of a man in Dallas.
Court documents show that 33-year-old Khurram Ali was shot while sitting in a parking lot on North Central Expressway on January 19.
A friend of Ali's told investigators that he was going to meet up with Harris to buy marijuana before he was shot.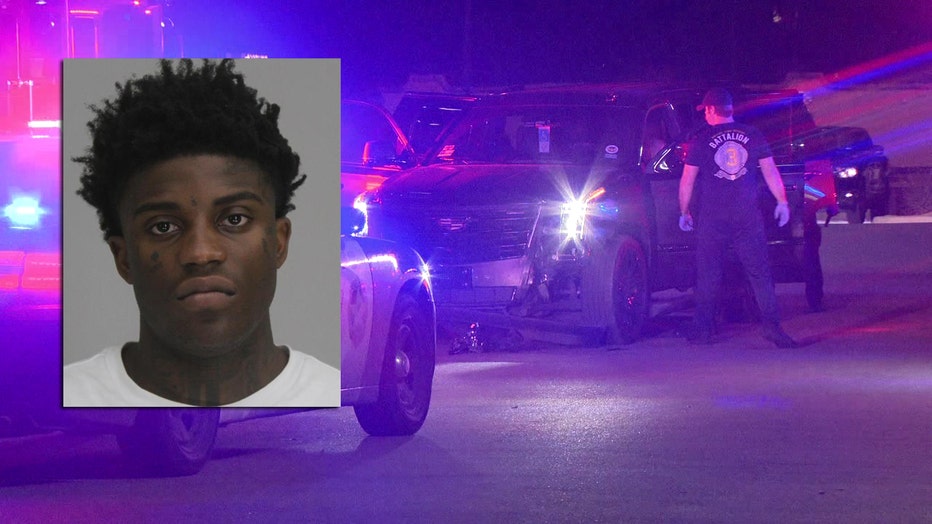 Ghazi Harris (Source: Dallas County Jail)
A security guard told Dallas police he saw two vehicles parked next to each other on the night of Jan. 19, according to an arrest affidavit.
Ali's vehicle took off and struck an unoccupied SUV. A trash bag then fell out of Ali's SUV and a person ran up to the suspect's car, according to the affidavit.
The security guard told police he then heard one gunshot and saw two people run from Ali's SUV to the suspect's car before it took off.
Messages on Ali's phone show Cash App messages with a person with the handle $Kaash2G with a picture of Harris.
The messages set up a time and location to meet and pictures of what police believed to be drugs.
The affidavit also says there was also a message from shortly after the shooting saying "You gone try to runoff on me?"
Handprints from the car also matched Harris, according to the affidavit.
READ MORE: Rapper Trapboy Freddy arrested after police find tiger cub while serving warrant in Dallas
On social media Harris recently said he signed a record deal with Kodak Black's Sniper Gang Records.
Harris was arrested for a previous murder in Irving in February 2021, but a Dallas County grand jury declined to indict him, according to court records. 
Harris is being held without bond at the Dallas County Jail.