Investigation continues into what caused explosion that destroyed Tarrant County home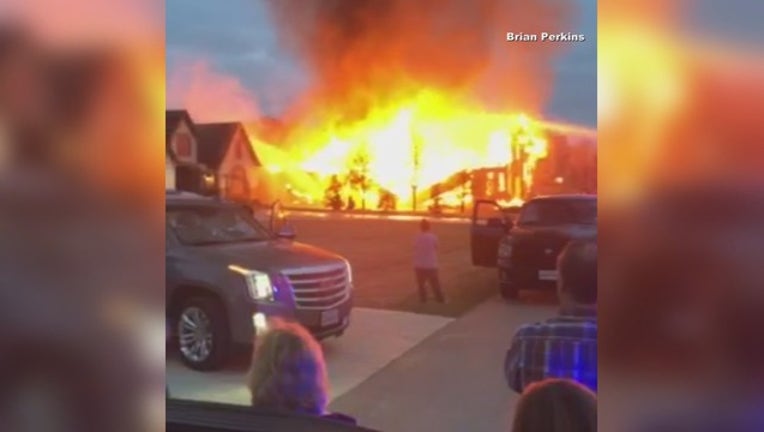 A day after an explosion sparked a house fire in Tarrant County, destroying the home, firefighters are still at the scene to extinguish any hot spots.
The Tarrant County Fire Marshal's Office is looking into the cause of the explosion at an exclusive neighborhood near Benbrook Lake, off I-20, southwest of Fort Worth.
The explosion injured one person.
MORE: Explosion sparks house fire, destroys home in Tarrant County
People who live nearby said they heard a loud boom, then moments later, the house burst into flames.
A next door neighbor said in that time, another neighbor - who is a volunteer firefighter - ran over and turned off the propane tank that supplies the home.
The neighborhood is somewhat in the country and does not have natural gas lines.
The fire was a 3-alarm fire that got response from departments from White Settlement, to Benbrook, to Crescent and beyond.
The Tarrant County deputy fire marshal says painters were renovating the home, which has been under ownership, but vacant for about a year, when the lacquer they were using found an ignition source.
That's when something inside, like a compressor or an air conditioning unit, clicked on, creating the spark for the explosion and fire.
"The workers were coming out and the one guy was basically on fire. His t-shirt was on fire and stuff, and so we were trying to get him help," said Steve Moore, who lives next door.
The deputy fire marshal said only one painter was inside the home when the explosion happened.
He was flown to a hospital with burns, but his injuries are not believed to be life threatening.
Investigators say they might never know exactly what caused the fire because the home is a total loss.