Hundreds of flights canceled at DFW airport, travel delayed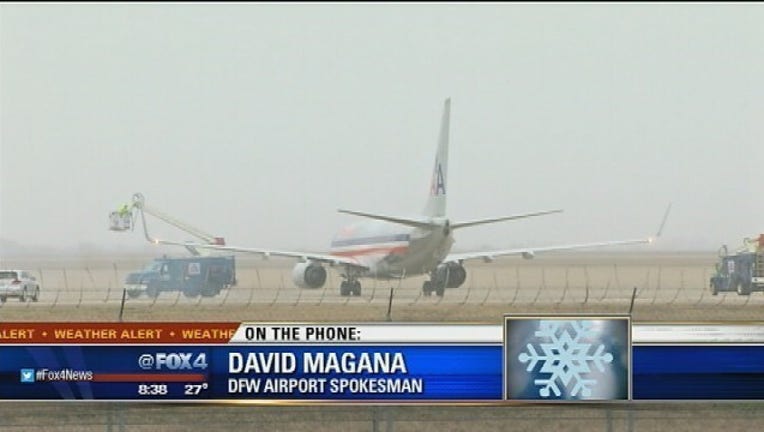 article
DALLAS (AP) -- Freezing rain that coated parts of Texas and Oklahoma on Saturday left highways slick and forced the cancellation of hundreds of flights at Dallas-Fort Worth International Airport.
Transportation officials and the National Weather Service warned travelers to stay off the roads, if possible, until temperatures rise and the ice melts. The weather service issued a winter weather advisory for the Dallas-Fort Worth area until Saturday night.
Freezing rain coated an area stretching from about 40 miles north of Austin up to the Dallas area, said Anthony Bain, a weather service forecaster based in Fort Worth.
"If you don't need to travel, just stay home," Bain said. Temperatures were expected above freezing by late Saturday afternoon, and into the upper 40s on Sunday, Bain said.
About 700 flights were canceled Saturday at the Dallas-Fort Worth airport, airport spokesman David Magana said. About 600 were canceled Friday, forcing about 5,000 travelers to spend the night at the airport. The airport provided cots, blankets and toiletries to the passengers, plus kept concession stands open overnight, Magana said.
American Airlines, which uses Dallas-Fort Worth airport as its main hub, had cancelled 600 flights, system-wide, on Saturday, after cancelling 700 on Friday, said airline spokesman Matt Miller. One American flight from the airport to Oklahoma City that typically takes less than an hour ended up being a nine-hour journey for some passengers.
"We apologize for the frustrating experience," Miller said. The period of time that the jet was delayed on the tarmac waiting did not exceed three hours, he said.
The flight, with 110 passengers and five crewmembers, pushed away from the gate around 1:45 p.m. Friday but returned to the terminal amid deicing delays, Miller said. Passengers were allowed to exit, remaining in the gate area while crews also dealt with an air conditioning issue on board.
Some passengers opted to stay on the jet, Miller said. Another flight crew also had to be assigned to the flight because of the length of the delay and federal regulations on how long crews can be on duty, he said.
The flight took off at around 10:45 p.m., Miller said.