Grass fire burns close to homes in Glenn Heights
GLENN HEIGHTS, Texas - A grass fire in Glenn Heights burned hundreds of acres and, at one point, threatened a lot of homes.
SKY 4 flew over the fire just before 5 p.m. Friday. People in a nearby neighborhood were seen splashing buckets of water on nearing flames.
Thankfully, firefighters from several cities responded and got it under control.
After the week we've had with fires in multiple parts of the metroplex, Glenn Heights residents are thankful no homes were destroyed.
Around 3:30 p.m. Friday afternoon, a large grass fire sparked in a field in Glenn Heights.
Juan Perez says he was staying in Balch Springs earlier this week and saw the fire there that damaged more than two dozen homes. So he was worried when he got a call from family about Friday's fire in Glenn Heights.
READ MORE: Balch Springs fire victims get helping hand from local organizations
"I got a call from my nephew saying there was a fire and not to come home," he said. "I just saw everybody with their buckets and their hoses, doing their part and stopping this from actually reaching out homes. For this to happen so close and to have moved here not too long ago and possibly lose everything was a tough one." 
From Perez's family's backyard, you can see just how close the fire line got. He and others spent the evening watering yards and homes just in case another fire sparked up.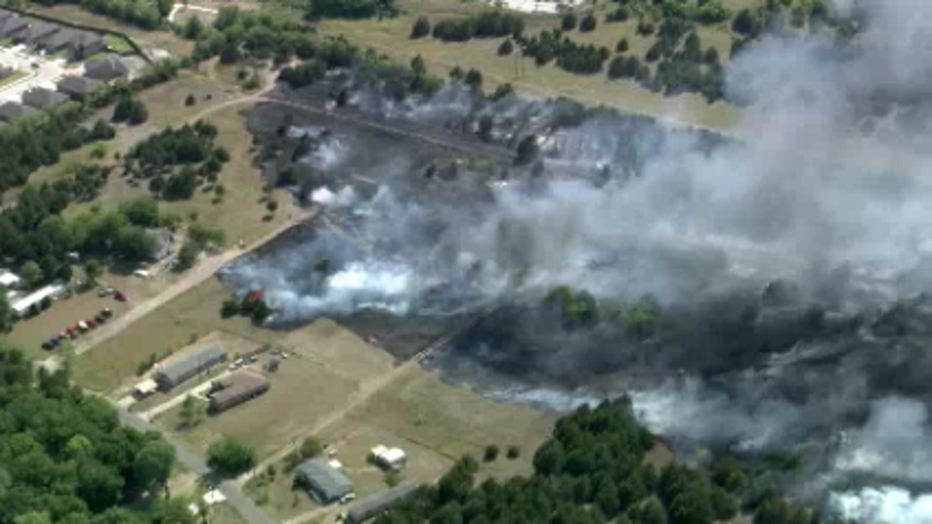 Conditions across North Texas remain dangerously dry.
Glenn Heights City Manager David Hall is thankful the situation did not end like other communities in the metroplex this week. 
"There was no loss of life, firstly. No loss of any residential structures," he said. "We only lost one utility structure, which was an older barn. We had to semi evacuate a couple of streets and our park as a precautionary measure."
Firefighters from several surrounding cities assisted. There were some evacuation orders in the area, but no flames reached any homes. 
The Red Cross did respond to the scene, but it appears no one needed any immediate assistance.