Frozen pipes burst across Dallas homes, flooding some units
DALLAS - As hundreds of thousands of people struggle with basic necessities like water and heat, others lost the roof over their heads.
Burst pipes have flooded apartments and homes, making them unlivable.
Joel Pares says at first he noticed a small drip in his living room at the Camden Victory Park Apartments, but the situation quickly escalated.
"It just started coming down everywhere. The walls by where the TV was at just started, I'm assuming that's where the piping was at, it just started breaking through the walls there," he recalled.
Pares and his neighbors grabbed brooms and anything else they could to try and get the water out.
"As much water as you would push out, the same amount of water is coming down from the ceiling," he said.
Jeremiah Bailleu was there to help Pares.
"There was a monsoon inside this apartment," he said. "There was water coming through the pipes through the walls coming from the top. It was crazy."
Water gushed into Bailleu's neighbor's apartment after a fire suppression line busted. He says they opened the balcony doors to give the water a place to escape.
Pares says everything was destroyed. He's currently staying with his parents until he figures out his next move.
"It's a surreal feeling. Like a bad dream," he said. "I'm just hoping to wake up back in my apartment. It still hasn't hit yet. It doesn't feel real."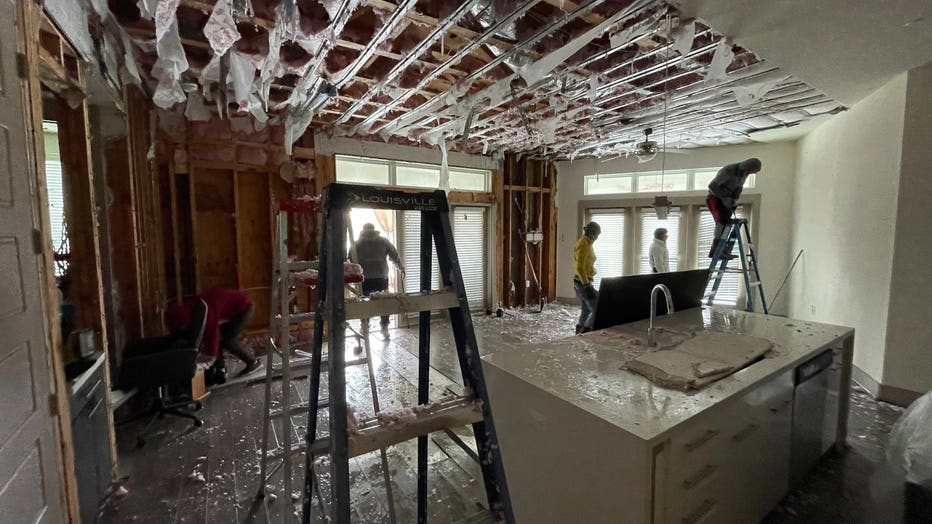 "Within five minutes of our power going back on, our fire alarms started going off," said resident Hannah Theriault. "So of course we were all wondering what was going on."
The busted pipe triggered the fire alarm, leaving other residents like Theriault to wonder what was going on.
Meanwhile, Bailleu says he and several others used shop vacs to keep the water from entering their units. He says they'd been going 7 to 8-hour stretches without power.
"I'm sure that pipe wouldn't have gotten that cold had they not shut our electricity off for such long periods of time," he said.
Bailleu says fortunately his until is still dry and estimates about 8 units were affected, especially those on the floor below. Everyone else was able to stay in the building after the fire suppression system was drained.
"My heart definitely goes out to all the people who were impacted by the flood yesterday," Theriault said.
FOX 4 reached out to the Camden, but we have yet to hear back.
In Old East Dallas, Season Pokoj woke up to water from multiple burst pipes flooding into her home. She quickly used anything and everything she could to get the water out.
"Just buckets, just standing at the door and just throwing buckets of water outside of my house," she said.
The floors and kitchen will have to be replaced.
"I haven't broke yet," Pokoj said. "My goal is just to figure this all out. Luckily, I have a place to stay."
The Family Place's Emergency Shelter that houses over 120 women and children who've escaped domestic violence is also unlivable after the pipes burst Tuesday.
"We could see the water was pouring out of the ceilings and the clients were trying to run and get their clothes," said Family Place CEO Paige Flink. "It was traumatizing for them, and certainly when you see these pictures it's just awful."
The families are currently sleeping on temporary cots at a church, but there are no showers or privacy. They only have until Saturday to find another place to go.
"That's my biggest need is trying to figure out how to find a place where I can keep everyone together," Flink said. "Because that's the safety part of it, is the ability for us to watch over and have a security guard."
Flink is hoping to find a small hotel or apartment building to give their families a place to rest safely.
"When you're a victim of domestic violence, your life has been chaotic. When you get to a safe place, you get to take a breath for the first time," she said. "And so for our clients to realize this is another trauma they're going to experience really does magnify their pain, so I just hope we can figure this out."
The Family Place is still operating other shelters and encourages people who need help to continue calling the 24-hour crisis hotline: (214) 941-1991.
They're also asking for monetary donations and clothing to replace what was lost.
LINK: Family Place Donations