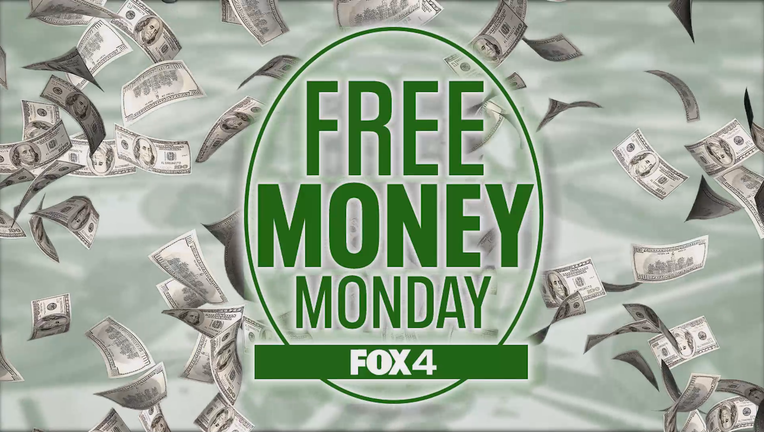 DALLAS - We're celebrating another Free Money Monday here on FOX 4. Today could be your lucky day!
FOX 4 has teamed up with Texas Comptroller's Division of Unclaimed Property to reunite North Texans with funds they don't know they have. Right now the state has more than $3 billion unclaimed cash.
Each week, Steve Noviello will surprise one small business or charity with its missing money. He's also giving you the details to search for your own lost funds.
SEARCH: claimittexas.org
Education is Freedom
Since the series started, more than 70,000 people have claimed missing money from the state. That's exactly why Steve took on the task of showing you how it's done.
But the best part about Free Money Monday has been the cheers and tears, as well as utter disbelief.
To capture those moments, Steve had to keep the real story a secret at first. And asking about missing money can sometimes be misunderstood.
"Do you think any of those funds went missing?" Steve asked Marcia Page, the president and CEO of Education is Freedom.
"No! Went missing? What do you mean went missing? Of course not. Every single penny that is donated to Education is Freedom goes to support a student," Page said.
The North Texas-based not-for-profit helps students navigate their post-secondary education options in some of the most underserved communities.
In the state of Texas, high school counselors are planned at like 450 to 1. They help improve that ratio in five districts and more than 34 schools.
"The high schools give us a classroom and we convert that classroom into a college and career technical center," Page said.
It takes almost $3 million each year to get it all done. The program is only 65% funded.
"And then I have to personally fundraise the other 35% which amounts to a little over a million dollars a year," Page said.
Education is Freedom has some great corporate partners. But some of their donations -- $71,590 to be exact – never found their way to the organization.
Here's what happened. Education is Freedom was started and fully funded by Jim Keys, the then CEO of North Texas-based 7-Eleven.
When Keys left his post, the funding stopped. But not before a misprinted address caused three different donations to go unclaimed.
"With the social distancing I can't hug you and it probably wouldn't have been very professional. However, for $71,590 I would have been unprofessional for a while. Thank you! This is wonderful," Page said.
The money will cover more than a month's worth of payroll for Education is Freedom.
How did the money get there?
Money is generally turned over to the state when accounts go dormant. Maybe it's a deposit you forgot about, a refund you were owed or a donation to your organization.
Generally, something as simple as a typo can keep cash from finding its way to the owner. If there's a spelling error, an outdated address or any clerical error that prevents the cash from coming to you, it has to be turned over to the state.
And once it gets there, it's nobody's job to come looking for you. So, Steve took on the task.
How do I find out if my name or business is on the list? What do I do if it is?
Believe it or not, it's easy. It's all public information. Simply go to claimittexas.org and start searching.
You can claim your cash on the website and then will need to submit proof of your identity.
Claiming cash from the state is a free process. So if anyone is asking for a credit card or finders fee, you're probably on the wrong website. 
MORE: facebook.com/savemesteve
Luna's Tortilla Factory
Restaurants have been hit hard by the pandemic and could use any boost to their business. So Steve grabbed a table and ordered up some good news for one North Texas family-owned restaurant.
Luna's Tortilla Factory was founded in 1924 by Fernando Luna's grandmother.
"Back in those days, women didn't work, much less Hispanic women," he said.
But Maria Luna was a woman way ahead of her time.
"She would go out every morning to about 10 houses and deliver 10 pounds of masa to each household. The next morning, she would go back and pick up the tortillas the ladies had made, deliver them and bring back 10 more pounds of masa," Luna said.
She was business-minded and employed only women to build what is now known as Luna's Tortilla Factory.
"From what I understand, she never learned how to make a tortilla but she knew how to make people work," Luna said.
For almost a century, the business has been family run.
"In the 96 years of Luna's I bet we have maybe 10 people that have opened the front door in the morning. And we get here at 6 o'clock and years back it was 4 o'clock. That's what I'm most proud of. It's always been somebody in the family that does it," Luna said.
Today he holds the key to the front door and the family's famous tortillas are served in their restaurant, as well as many high-end hotels such as the Omni Dallas, Hilton Anatole, the Ritz-Carlton and others.1
But since COVID-19 hit, their wholesale business has been bleak.
"There's no weddings going on. There's no conventions going on. Not much vacationing," Luna said.
Demand is down. And while they've adapted in their restaurant with carry out and family platters, business is slow.
"Mexican food is hard. It doesn't heat up as well as pizza does. It doesn't heat up like another dish does," Luna said.
The family has worked hard to retain their staff, maintain a customer base and has even applied for PPP money from the government.
"To this day, we have not received a penny. And you hear the big companies receiving all kinds of money. But I think our time is coming. We gotta keep faith. We gotta keep hope and something is gonna happen," Luna said.
Steve thinks that time is today – on Free Money Monday. He was able to find $22,282.80 for Luna's Tortilla Factory.
The money is cash from corporate clients, an old PayPal account and bonds that have matured. The problem was just an outdated address.
"Never in my life did I dream this was gonna happen today," Luna said.
Black Tie Dinner & the American Heart Association
So many non-profit organizations have had to scrap their annual in-person fundraising events and so many of them have no idea there's missing money just waiting for them.
The Black Tie Dinner is typically the biggest and most star-studded fundraising dinner in Dallas. The organization raises funds for LGBTQ supportive organizations specifically in North Texas.
This year the auction items, the live entertainment and the 3,000 guests all faced a possible COVID-19 cancellation. Instead, organizers planned an old-school Jerry Lewis-style telethon with an hour-long TV show and dollar by dollar donations.         
Steve Noviello surprised them with their very first donation -- $3,798.60.
The money is actually old donations that have been sitting in a general fund account for the state of Texas marked as unclaimed because of a clerical error that listed the address for the group simply as "Oaklawn Texas."
And as it turns, one of the Black Tie Dinner's organizers is also the vice president of marketing and communications for the North Texas-based American Heart Association, whose annual Heart Walk usually draws a crowd of more than 65,000 people.
Steve found $22,837.85 for the AHA – dozens of donations incorrectly addressed and just sitting with the state waiting to be claimed.
Both Black Tie Dinner and the AHA are still having their fundraising events this year, they'll just look a little different. For more information, visit blacktie.org or heartwalk.org.
The Mermaid Sealon
There's cash for companies, cash for individuals and chase for charities. But during this crazy time of COVID-19 when businesses have had to bear the brunt of shutdowns, Steve decided to start there. He surprised one magical mermaid who has been working her tail off.
Katie Rogers owns the Mermaid Sealon, a glittery salon that attracts customers from all corners of the country because of her mermaid hair extension line. Then when COVID-19 came, the tide turned.
"Even though it was only two months, I'll probably be behind six to eight catching up," she said.
She has 13 employees, a lease to pay and residential rent that's due. And like many businesses across North Texas, the money has dried up.
Rogers admits she's better at beauty than business, especially in her early days when she rented a room in a Downtown Dallas salon.
"It was kind of a hot mess and I had a CPA. Well, he told me he was a CPA," she said.
Turns out, there's something they missed -- $10,986.3 that was sitting unclaimed in a PayPal account.
Rogers used to take payment via PayPal. The cash collected but when her business address changed the account went dormant. The money was handed over to the state.
"This helps out so much! WOW! Thank you. This is like... how did you even find that?" she cried after Steve told her about the unclaimed cash.