Officer shoots suspect who was threatening sister with gun, Fort Worth police say
FORT WORTH, Texas - Fort Worth police are investigating after they said an officer shot an armed suspect who was involved in a domestic disturbance Saturday afternoon.
Fort Worth Police Chief Neil Noakes said this incident began just before 12:30 p.m., when a call came into police from a woman who said her brother was threatening her with a gun at a home on Odessa Avenue.
Officers arrived on scene, and about a minute later, police said the suspect ran out of the back of the home and onto Rutland Avenue.
"Officers also know domestic violence situations are often times the most dangerous and deadly because it is personal for the people involved," Chief Noakes said.
READ MORE: 16-year-old boy killed, 17-year-old girl seriously hurt in shooting outside Fort Worth Whataburger
Responding officers chased after him and said they used "less-lethal" force by using a Taser on him, but it did not stop him. Noakes said it's still under investigation why the Taser deployment was ineffective.
After that, police said officers were presented with a deadly threat, causing an officer, who is a 15-year veteran with Fort Worth PD, to fire their gun, hitting the suspect.
Police did not elaborate on what the deadly threat was, but said a firearm was found next to the suspect.
Neighbors told FOX 4 the foot chase crossed over three yards before the suspect was shot by police. 
Officers provided aid to the suspect, and he was taken to a hospital in stable condition. His name has not yet been released.
No officers were injured.
"It's a sad situation anytime anyone is shot, but this is the reality officers face on a daily base," Noakes said. 
Noakes said it was less than 10 minutes from when the 911 call was made to the officer firing his weapon.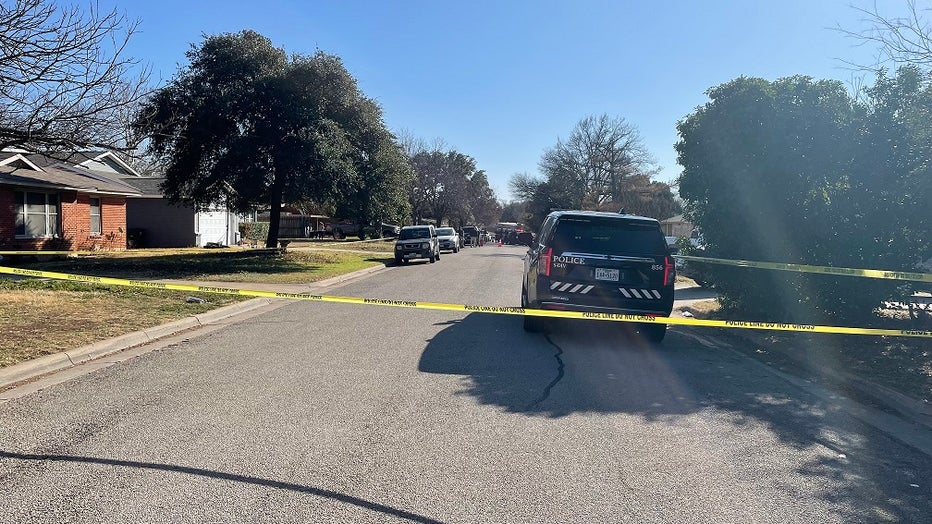 While June Hobbs was just a half mile away shopping, her Fort Worth home was on the same street as a crime scene investigation Saturday afternoon.
"Over there on McCart, I saw a policeman flying by. He easily went by. He was loud and going," she recalled. "My husband and neighbor were outside and saw a crowd of police, tape and all that. I was shocked and I had no idea what could have happened."
Hobbs rushed back to Rutland Avenue, which was blocked off by Fort Worth police cruisers.
Hobbs said she's been there 38 years and never seen this many officers on her street. 
Fort Worth PD combed through grass, looking for evidence. 
People nearby watched investigators cover the scene for more than five hours.
Hobbs said she's been there 38 years and never seen this many officers on her street. 
"This is a safe place. I am surprised," Hobbs said.
The suspect's sister was not injured. It's still unclear why the man was threatening his sister with a gun in the first place. 
The investigation into this shooting is continuing.