Shootout outside Fort Worth shopping center after hit-and-run leaves 1 dead
FORT WORTH, Texas - Two drivers got into a shootout after a hit-and-run crash in Fort Worth, and of them was killed.
Police say the other driver was detained at the scene Tuesday afternoon by Dick's Sporting Goods at Alliance Town Center at I-35W and Heritage Trace Parkway.
Police will have to determine if the driver who killed the other man was acting in self-defense or should face a criminal charge or leave the decision up to the district attorney's office.
SKY 4 video shows the scene of a deadly shootout following a hit-and-run in the middle of a shopping center where people were going about their day.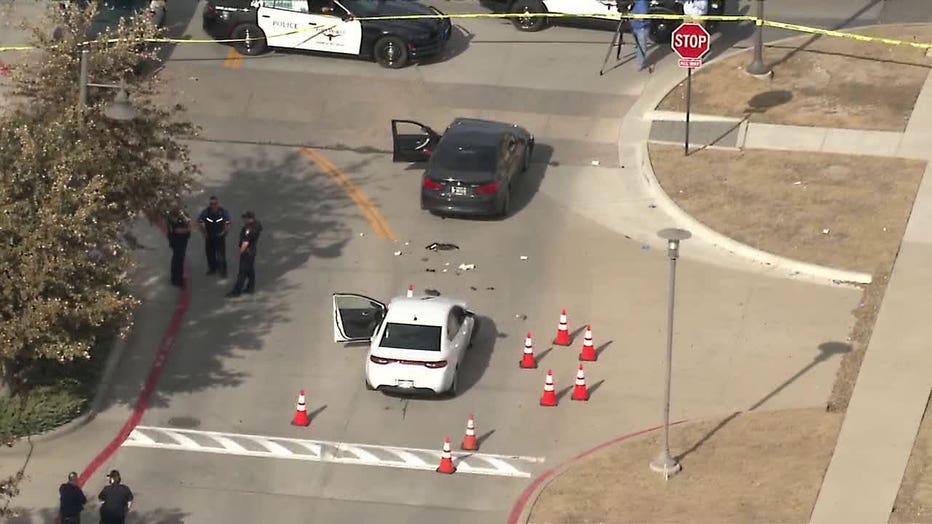 Police say the driver of a black BMW with front-left damage hit a white Dodge, which has front-right damage. 
The driver of the black BMW drove off. The driver of the white Dodge followed the BMW. 
Both men stopped in front of Dick's Sporting Goods and exchanged gunfire after police say the driver of the black BMW exited his vehicle and approached the white Dodge with a handgun.
A cell phone recording shows the driver of the black BMW receiving medical attention. Because of its sensitive nature, FOX 4 is choosing to blur part of the footage.
The driver of the BMW was taken to a hospital but died. 
The driver of the white Dodge was shown being placed in handcuffs. But at this time, police say he is not under arrest and did not release his name.
Jonathan Lowell works in the shopping center. He says he took customers to hide.
"I had everyone follow me to the back hallway where all the doors lock automatically," he recalled. "I felt like that was the safest place, and we waited there until we knew it was safe."
Investigators are sorting through all sorts of evidence on the scene, including weapons.
Video from SKY 4 shows one gun next to the white Dodge and a second gun toward the black BMW. That gun appears to have a bullet casing stuck inside.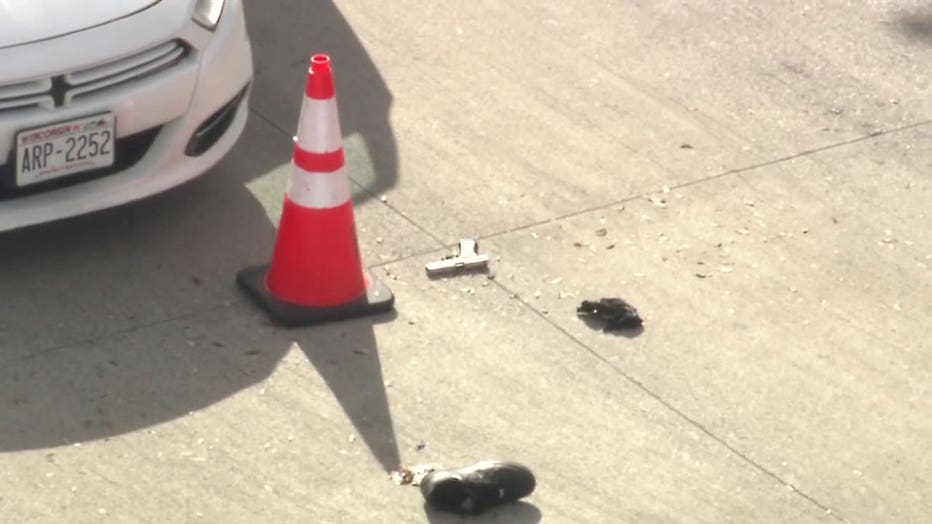 Police did not say how many shots they believe were fired.
At least one stray bullet hit a bystander's truck. 
Lowell says he cannot believe an exchange of gunfire happened here.
"You're having a normal day, and then all of a sudden, out of nowhere, this kind of crazy thing happens that you don't think is possible. And then it finally happens to you," he said.