FEMA opens drive-thru COVID-19 testing site in Arlington
ARLINGTON, Texas - A new COVID-19 testing site run by the federal government is opening in Arlington.
The drive-thru site will be located outside Choctaw Stadium, which is the former home of the Texas Rangers. 
It opened at 9 a.m. Wednesday in Sienna Lot "M" and will be open until 7 p.m. every day for the next three weeks.
RELATED: Free government COVID test kits now available: Everything you need to know
"I understand this test site is seeking to test at least a thousand folks per day," said Tarrant County Commissioner Devan Allen.
The massive parking area was selected based on the location and with regard to other testing sites in the county.
"Getting selected for this location wasn't really a big decision on FEMA's part," said Irish Hancock with the Arlington Fire Department. "I think it was many partners coming together geographically looking at Tarrant County where there are sites and where is an avenue with many arteries that people can get to that location for the testing site."
National Guard members were on hand Tuesday to help with setup. FEMA will be in charge of the operations.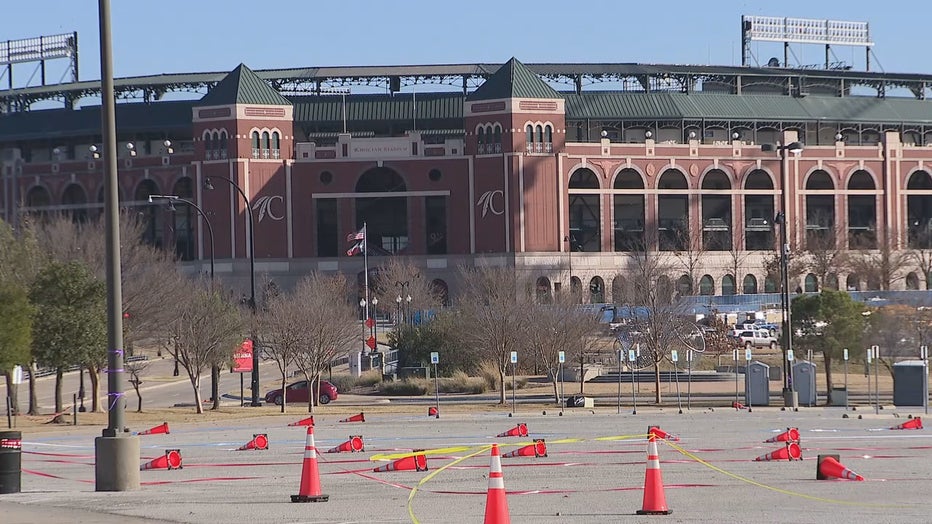 "A lot of testing capacity in the area. Let's utilize it. If anyone feels they have any symptoms, do not ignore it. Yes, it's allergy season. It's cold season, flu season. But please, go get your COVID test done," said Vinny Taneja, the Tarrant County public health director. "I do recommend that people who are exposed and are feeling symptoms, they should come first."
"It's really important to have the convenience of the testing location," Allen said. "So that when you are breaking away from work or from school or from your other responsibilities and want to get a test, you want to make sure that you're able to do so."
Officials say results will be turned around in 24 to 36 hours, noting a key factor in battling the virus is people knowing their status as quickly as possible.
"The turnaround times will be 24 to 36 hours," Hancock said. "The person will get notified to go back to their website to receive the results. And on average, it's 24 to 36 hours, and we're doing our best to ensure that happens."
FEMA urges people to register online in advance to keep the wait times shorter.
RELATED: North Texas COVID-19 surge showing some signs of a plateau, health officials say