Evidence shows Waco police bullets hit bikers in May melee, unclear whether any were fatal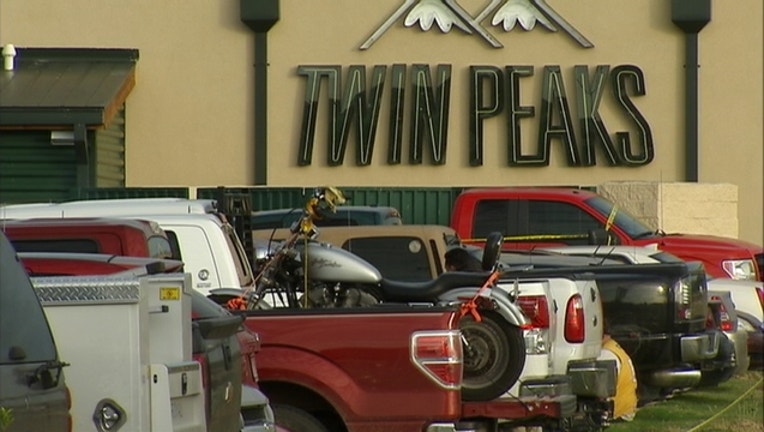 FORT WORTH, Texas (AP) -- Evidence reviewed by The Associated Press confirms that police bullets hit bikers in the deadly brawl that erupted last spring outside of a Waco restaurant, though it isn't clear whether those rifle shots caused any of the nine fatalities.
Thousands of pages of police reports, dash cam video, photos and audio interviews are part of the more than 8,800 pages of evidence that is expected to be presented to a grand jury. They provide the best insight yet into the May 17 bloody confrontation between two rival motorcycle clubs, the Bandidos and the Cossacks, about which authorities have released little information.
The evidence includes video footage of people fleeing the scene while shots ring out, audio of police threatening to shoot people if they rise from the ground and photos of bodies lying in pools of blood in the restaurant parking lot. Although 20 people were treated for gunshot and other wounds sustained in the shootout, which began before a meeting of a coalition of motorcycle clubs that advocates rider safety, more people may have been injured.
Many witnesses, including bikers involved in the brawl and Twin Peaks waitresses, told police and Texas Rangers that the shooting began after a Bandido hit a prospective member of the Cossacks with his motorcycle, according to the evidence. A fistfight ensued, followed by several minutes of shooting.
Waco Police Chief Brent Stroman said in June that three officers fired a total of 12 shots, but police have not said whether the bullets struck anyone, fatally or otherwise.
Officer George Vrail was assigned to a special detail to cover the meeting, and wrote in a 724-page police incident report that he saw that two officers during the shootout who "had multiple suspects down on the ground. (An officer) informed me they were engaged by gunfire as they exited their marked police unit. (The officer) said they both returned fire and struck multiple suspects with their patrol rifles."
Officer Keith Vaughn wrote in his portion of the incident report that another officer spotted a man shooting into the crowd and told Vaughn that he fired one round "to stop the individual from shooting anyone else."
Waco police spokesman Patrick Swanton declined to comment on the evidence the AP reviewed, citing a gag order in the criminal case of one of the bikers.
According to the incident report, a separate Waco police investigation into the police shootings is underway. The Bureau of Alcohol, Tobacco, Firearms and Explosives is conducting ballistics analyses. ATF spokeswoman Nicole Strong declined to comment.
Following the shooting, 177 people were arrested and held for days or weeks on $1 million bonds on charges of engaging in organized criminal activity. But no formal charges have been made, and it remains unclear whose bullets struck the dead and injured.
It also remains unclear when cases will be presented to a grand jury. Bikers were taken to the Waco convention center for processing after the shootout and were told on the way that they were going to be interviewed as witnesses, according to a 430-page Texas Department of Public Safety report that corroborates what arrested bikers have told AP. But the district attorney's office decided late that night to arrest the majority of those detained.
DA Abel Reyna and his staff told authorities at the convention center that if a person was wearing a patch, clothing or insignia that indicated support for the Bandidos or Cossacks, he or she should be charged with engaging in organized crime, according to the report. Reyna could not be reached for comment.
More than 430 weapons were recovered from the crime scene, including 151 firearms, according to the incident report. Many weapons were taken from bikers, while others were recovered from vehicles, bushes outside the restaurant and the men's bathroom, where two pistols were found in toilets, photos show.
Authorities "did not know exactly what to do with (the large number of weapons) and just started laying them on the ground away from the suspects," Officer Joshua Fischer wrote in the incident report.
After the shooting had ceased, an officer asked everyone with a weapon to raise a hand, according to the incident report. Nearly everyone did.