Detention officer fired in Collin County jail death investigation reinstated
McKINNEY, Texas - One of the seven detention officers fired following the death of an inmate in the Collin County jail now has a job again.
Marvin Scott III died in custody on March 14. He had been arrested by Allen police for marijuana possession and reportedly began to act strangely in jail. Officers put him on a restraint bed and used pepper spray to get him under control.
Collin County Sheriff Jim Skinner fired seven officers involved in the incident because they violated policies and procedures. An eighth officer resigned.
RELATED: Seven detention officers fired in Collin County jail death investigation
The sheriff's office said several of the officers appealed their terminations through the civil service process, and the job of one of those officers was restored on Friday.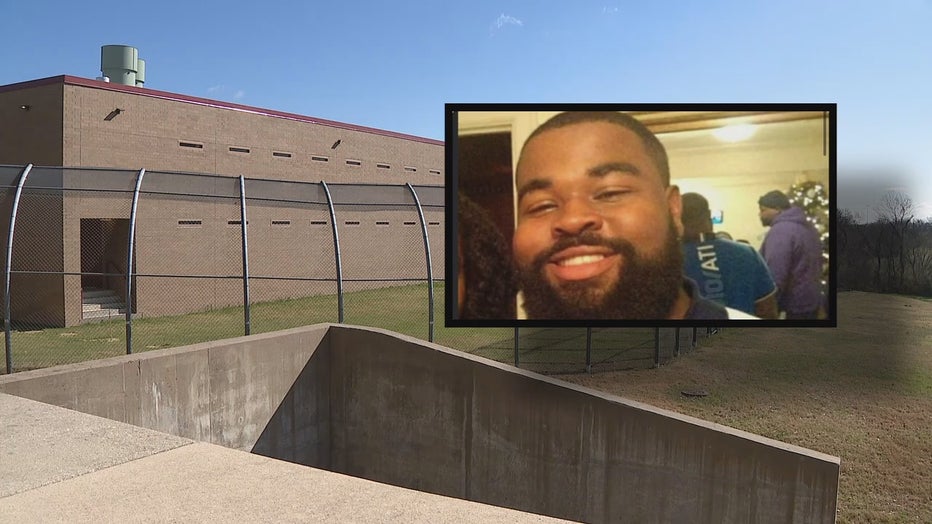 "Sheriff Skinner disagrees with this decision and is considering his options before the full Civil Service Commission," his office said in a statement.
Attorney Lee Merritt is representing Scott's family. He says the news that one detention officer was reinstated is troubling.
"That means the sheriff believes he was either contributory or failed to speak up," he said.
Merritt says the decision about five other jail officers who appealed their terminations is telling.
"All the officers appealed and only one got his job back," he said. "That means even the civil service commission has determined what these men did was a violation of policy."
The family has waited 45 days to see video of what happened to their Scott.
FOX 4 has learned through records requests that Sheriff Jim Skinner pushed for release of the video just days after Scott's death.
On March 25, the sheriff wrote a letter requesting permission from the district attorney and Texas Rangers, but DPS sought permission from the attorney general to block the release.
Merritt says the family is expected to finally view the five hour-long video Wednesday. In his opinion, the delay implies there is evidence of wrongdoing.
"When evidence is exculpatory showing use of force was justified, those videos are released immediately," he said. "When it is inculpatory, when there is evidence a crime was committed, those videos are obscured and blocked by the AG's office and law enforcement is put at an advantage."
RELATED: Family commissioned independent autopsy for Collin County in-custody death
The Texas Rangers are conducting a criminal investigation of the incident.
Merritt says the coroner is also expected to release the cause of death Wednesday.
None of the detention officers' names have been released. It's something Merritt believes needs to happen so the public can know if they have a history of disciplinary actions.
RELATED: Family questions action taken prior to Collin County in-custody death