DeSoto ISD delays vote on teacher layoffs, budget cuts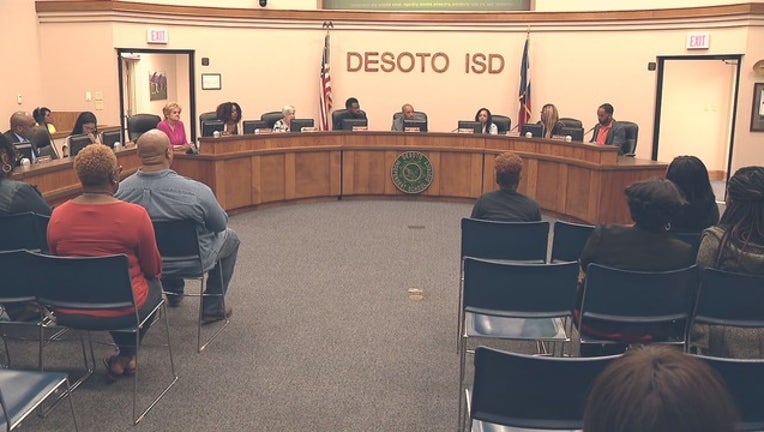 The DeSoto ISD school board delayed a vote Monday night to lay off 166 teachers.
The district was quick to say it is not a signal of any change of plans and budget cuts are still coming. The delay in approving the teacher layoffs was a move to allow the district to finalize the budget cuts.
But with two school board trustees up for election Saturday, some in DeSoto are hoping the delay could turn into a change of course.
"We know that this is a major moment in our history," said DeSoto ISD Superintendent D'Andre Weaver.
After four hours in executive session, DeSoto ISD trustees did make a few significant decisions. They agreed to allow teachers who already announced resignations to rescind those filings if desired. They also took assistant principals out of the reduction in force. But the biggest decision was to hold off on layoffs for 166 teachers.
For DeSoto residents, the Monday night move felt like a victory.
"Last night, they listened to us to delay cuts until time to do due diligence," said homeowner June McDarby.
"They might find other ways to have budget cuts," said parent Judith Wright. "It is encouraging that they are going back to look."
However, a spokesperson for the district warned that Monday night's decision "did not reverse the district's intent to issue a reduction in force."
But with two school board seats in Saturday's election, some residents who oppose the drastic cuts are holding out hope.
"We are asking everyone to go vote and make their voices heard," McDarby said.
The district is working to make up a $3 million budget shortfall that it blames on the previous administration. Teacher layoffs would generate $8.6 million. Combined with the closure of Northside Elementary School and program cuts, the district is projecting a $20 million surplus in two years.
"I do think they are trying to find a quick fix," Wright said. "My concern is long term. How is this quick fix going to affect the district and the students?"
The superintendent and the school board president declined to do interviews with FOX 4 on Tuesday. The district is also working to overcome a D rating from the state.
"We think cutting 166 teachers is not going to improve the D rating or give parents the confidence to send their kids here with a larger class size," McDarby said.
The district expects the school board to vote on the layoffs on May 13. The district has a job fair planned for May 3.
A spokesperson did not say how many teachers have already voluntarily resigned.