DeSoto & Cedar Hill cheerleaders take a knee before game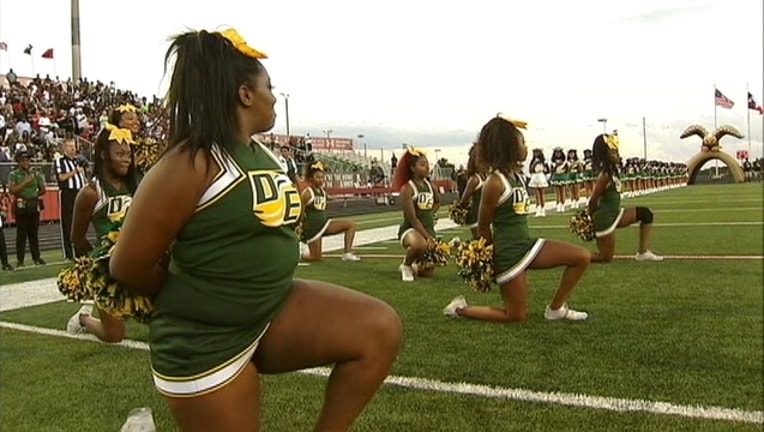 article
The cheerleaders for both DeSoto and Cedar Hill high schools took a knee at Friday night's football game to join the protests during the national anthem against social injustice.
DeSoto High School got a lot of attention when the entire volleyball team took a knee before Tuesday night's match. And just like Tuesday, none of the students who took part or school administrators would talk about it.
When the national anthem played at Friday's football game against Cedar Hill, most of the DeSoto cheerleaders took a knee. The action was in solidarity with a movement started by Colin Kaepernick protesting police brutality.
When the anthem played, both football teams had not entered into the field yet. It's unclear why the teams were not on the field for the anthem.
Once the football players did come out, both of them gathered in the middle of the field in agreement and prayed together.
"Young people are expressing their frustration with what's going on in America," said State Senator Royce West. "It should be a wake-up call for all of us that we've got to give them a reason to understand they can trust the criminal justice system."
"As a white man, my life has always mattered. I've always had an advantage, and I've always been privileged," said supporter Lud Pendery. "Our country, unfortunately, has not always seen the black man the same way."
"The decision they made to kneel at their last game, they caught a lot of flak for that," said Albert Woolum. "I saw that on the news. I looked when their next game was, and I came to support them to let them know somebody in the white community cares."
While the teams' actions have largely been met with support from their own community and their school district, not everyone has been supportive. The students have received backlash online.
In an email earlier this week, DeSoto Board Trustee Jerry Hall called the move "an embarrassment to the district and to our city."
Hall said he's asked the superintendent to review the students' actions to see if anything should be done. The board may address it at their meeting on Monday.
The district has not said if any students will face punishment, but earlier this week the superintendent issued a statement saying he respects the students' first amendment rights and called it a "peaceful, non-confrontational action" for students to communicate their frustrations and fears.