Denton County reports 54 new cases of COVID-19, bringing total to 137
DENTON, Texas - Denton County health officials announced 54 new confirmed cases of COVID-19 on Friday, bringing the total countywide to 137.
The Denton County Public Health Department says 31 of those cases come from the Denton State Supported Living Center. Two staff members also tested positive, but they were not included in the Denton County total since they live in a different county.
"Community spread is being seen throughout Denton County now and we continue to stress the importance of physical distancing," stated DCPH Director Dr. Matt Richardson.  "With incubation and transmission timelines, we still expect to see cases continue to rise while community members stay home; however, we hope those numbers begin to flatten within the coming weeks." 
RELATED: Coronavirus coverage
Initially, there were calls to build a field hospital to care for the sick. Instead, Denton Mayor Chris Watts says the state has provided new resources for center.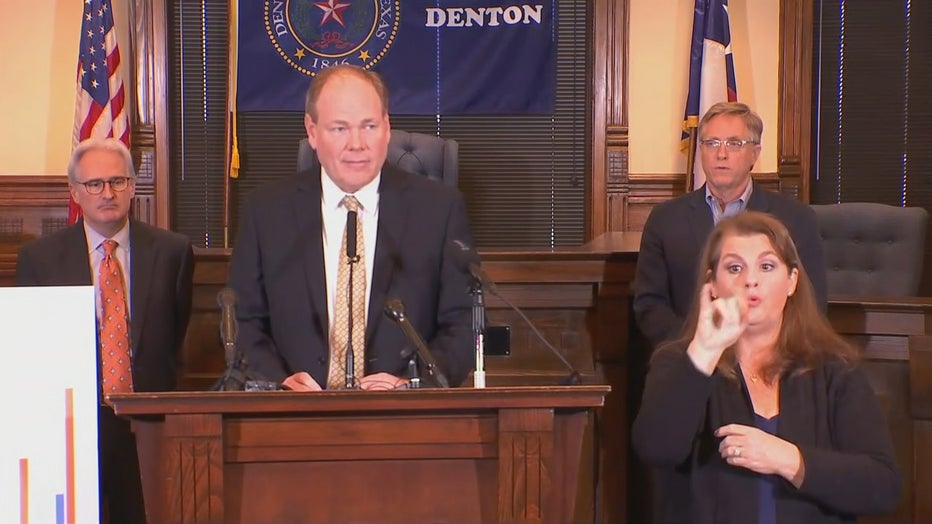 Four EMT units will be stationed at the facility and onsite care will be provided for those who don't need to be hospitalized. For those that need emergency care, they will be transported to hospitals throughout the county in order to provide relief for the local Denton hospitals.
Watts credits this swift action to the close partnership with state leaders.
"We've been on many phone conversations with them," said Denton County Judge Andy Eads "Everybody's have worked so diligently to make sure that the residents out at that living center had the best medical care that they can, given their unique needs."
Judge Eads says new COVID-19 cases have now popped up in more rural areas of the county including Argyle, Corinth, Roanoke and Krum.                   
The Denton County Commissioner's Court officially ratified the executive stay at home order that went into effect earlier this week. It will be in place until next Tuesday, March 31.
Eads once again stressed the importance of everyone practicing social distancing.
"Your life and your safety and that of your loved ones and friends and family is important," he said. "And that is why we need social distancing so be an advocate when you are out in public and demonstrate and be an example to others of what good social distancing is all about."
FOX 4 received a statement from the state facility Thursday evening, explaining that if a resident is hospitalized, they will only come back to the center when they are well enough to be discharged.
And in order to stop the spread, residents recovering from COVID-19 will be placed in dedicated homes.