Denton, Collin counties await more COVID-19 vaccines from state
DENTON, Texas - Thousands of senior citizens and people with high-risk health conditions in Denton and Collin counties are on a waitlist to receive a COVID-19 vaccine.
The Denton County Public Health Office said it is working through questions over its COVID-19 vaccine rollout.
So far, the county has received only 1,100 doses and all but 20 of those doses have been used. It is not scheduled to receive any doses from this week's state allocation.
RELATED: Coronavirus coverage
The county has no control over how many doses hospitals and private care providers receive. But the health director said he is obligated to notify the public when he gets that information.
"That's going to create, um, some mayhem on the providers' side. I don't know that local doctor's offices are geared up to take that kind of call intensity," said Matt Richardson, the Denton County public health director.
Denton County suspended its online vaccine registration until the county receives enough stock to offer another clinic.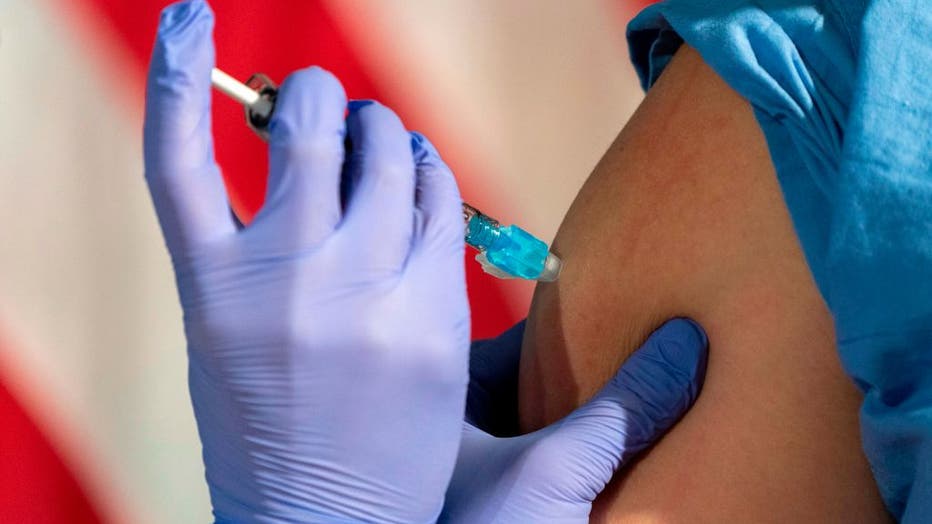 In front of a American flag, nurse Lillian Wirpsza, left, administers a COVID-19 vaccine to Shylee Stewart, a labor and delivery nurse at George Washington University Hospital, December 14, 2020, in Washington, DC. (Photo by JACQUELYN MARTIN/POOL/AFP
Meanwhile, in Collin County, roughly 46,000 people have registered for the vaccine. Frontline workers, people 65 and older and adults with chronic medical conditions can sign up.
But Collin County is also still waiting for its next vaccine shipment and is encouraging people to call their doctor or pharmacy for vaccine information
RELATED: Tarrant County continues mass COVID-19 vaccination effort as Dallas County waits for more doses
COVID-19 Vaccine Registration