Dems question legality of Gov. Abbott's use of state resources on border crisis
Some Democrats say Governor Greg Abbott's strategy of using state resources to tackle the border crisis may be unconstitutional. They sent a letter demanding a federal investigation.   
The move is the latest in a back and forth between the state and the Biden administration over how to tackle illegal crossings at the border.
The state of Texas has been showcasing the work of Operation Lone Star. Gov. Abbott's initiative launched in March and has netted 1,400 arrests for trespassing.
In the process, they have snagged more than 3,000 pounds of cocaine and meth and 132 pounds of fentanyl.
Gov. Abbott says it was necessary to fill the void left by the federal government.
"That leaves it to the states now to step up and do everything we can to hold on to the United States of America until Republicans can regain control of Congress and the presidency," he said.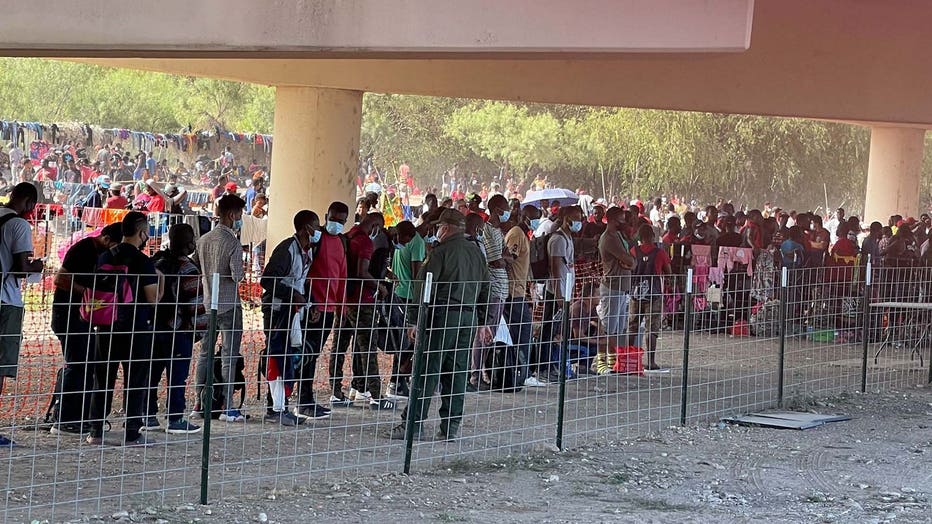 Migrants seen under the International Bridge in Del Rio, Texas on Sept. 16. (Congressman Tony Gonzales via Storyful)
But Congressional Democrats are raising concerns the state strategy runs afoul of the constitution. 26 of them sent a letter to the U.S. attorney general on Friday calling for a federal investigation, saying "these operations have continued to militarize Texas' border communities and interfered with the federal immigration system, likely violating the supremacy clause of the constitution."
David Coale is a constitutional law attorney.
"Generally, the courts frown on this when states are acting in an area that's seen as one that's reserved for the unique federal interest in immigration law," he said.
Coale pointed to recent examples when federal authority trumped local authority on immigration.
In 2013, a federal appellate court struck down a controversial Farmers Branch ordinance introduced in 2006 to ban undocumented migrants from renting apartments.
Just this summer, a federal judge determined one of Gov. Abbott's COVID-19 executive orders on transporting migrants violated the supremacy clause. The governor mentioned that ruling in a FOX News interview Thursday.
"I will continue to act. However, but it just goes to show the level of pushback by the Biden administration even trying to deny me to protect the health and safety of my fellow Texans," Abbott said.
The governor's spokesperson responded to the Democrats' letter Friday saying in part: "until President Biden and his administration do their job to enforce the laws of our nation and protect Americans, the state of Texas will continue stepping up to secure our border and protect our communities."
"The governor's office argument will be we have state laws against trespass. We have state law enforcement officials, and it is our choice to enforce them in a certain way," Coale said. "The federal counter to that is, well, you have all that is true. But the effect of it is to challenge things that really should be regulated exclusively by the federal government."
In the meantime, Humvees have started to line high-traffic areas in an effort to prepare for a large caravan making its way through Mexico with the state and federal government still at odds over how to deal with immigration.                     
The Congressional Democrats also pointed to concerns over court systems being overwhelmed by those trespassing cases.