Dallas Weather: Three EF-1 tornadoes confirmed, North Texans clean up after Thursday's severe storms
IRVING, Texas - The storms that hit North Texas on Thursday have passed, but many people are now dealing with the cleanup.
Severe weather brought heavy rain, large hail, strong winds, and at least three confirmed tornadoes to the area. 
So far, the National Weather Service has confirmed two tornadoes in Irving with peak winds between 105-110 mph and another in Corsicana with peak winds at 95 mph.
Here's a look at some of the damage that was left behind.
Irving car dealership badly damaged by possible tornado
A car dealership in Irving saw some heavy damage as severe weather moved through the metroplex.
A tornado touched down in this area and the building suffered the kind of damage associated with very strong winds.
The auto dealership located just off Highway 183 where it crosses MacArthur Boulevard is going to need a new facade because the old one was torn off.
There were customers and employees in the building at the time. Some employees were scrambling to move vehicles to covered areas to try to limit the hail damage.
Once it became clear that severe weather was approaching the location, most everyone went to a secure room inside the main building.
Autos of Dallas' general manager said it was a genuinely frightening situation.
"We were standing on the porch and was filing the clouds," Davis Mullins recalled. "We saw rotation. I thought we got to get inside. It was scary. A lot of people screamed."
Mullins said the minute everyone huddled inside, the facade below over. 
"I mean, we live in Texas. I'm kind of a storm. But I learn about storms, I never want to be the victim. It kind of reassures the fact that you need to be aware of what's going on," he said.
Lawns in the surrounding neighborhood are now littered with tree limbs and branches.
Several units at Garden Grove Townhomes were ruined, as part of the roof and siding came off and the rain came pouring in.
Part of the roof now sits on top of the residents' cars.
People came together to help one another.
One group was able to help free a car from heavy debris after an EF-1 tornado touched down in the area.
"My neighbor sent us a photo of the roof destroyed, so we came as fast as we could in the rain," recalled Paola Leon, whose home was damaged by the tornado.
Leon lives at the complex with her parents. She showed the inside of her unit, which was trashed.
"We just got in the house. All the roof is ruined, there's water in the floor and everything was ruined," Leon said.
RELATED: Severe weather video and photos from around North Texas
Wind tears roof off Grand Prairie warehouse
A warehouse for a disaster recovery charity was another one of the places significantly damaged by the storms. The roof of the warehouse was ripped off because of strong winds.
"I'm in our warehouse, the fire department came and shut everything off," site manager Quincy Walker narrated the damage from inside. "We still have falling debris."
The building in Grand Prairie is shared by several businesses including World Vision.
"This has had a tremendous effect on us, in the sense that we are the disaster hub for our U.S. programs network," Walker added.
He said 13 people were inside when part of roof peeled off. Employees who were there at the time said it was very scary. They described hearing a freight train.
No one was injured, but Walker said part of their precious inventory was ruined.
"We have 250 to 500 pre-positioned pallets in our inventory able to respond to a disaster at a moment's notice, but right now, we can't do that," Walker explained.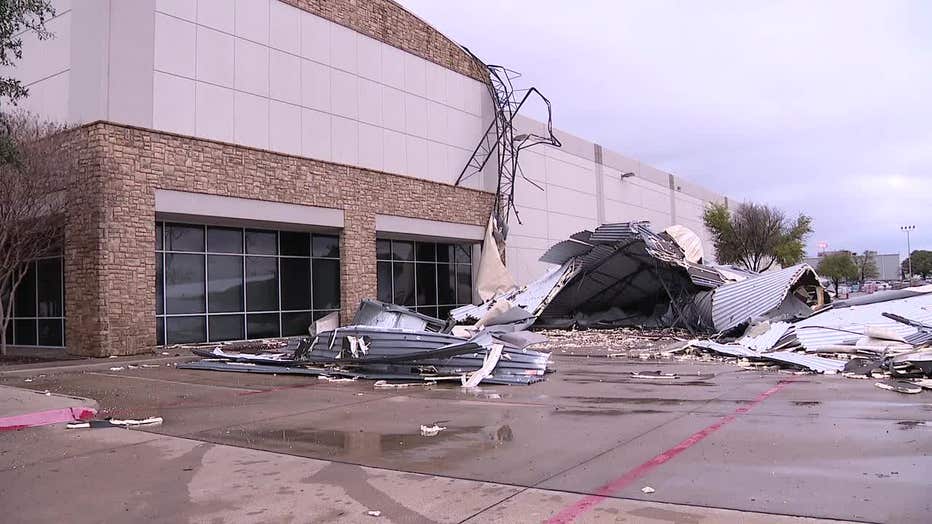 The fire sprinkler was damaged and went off, causing most of the damage inside the building. Debris was also scattered all over the parking lot and several loading bays were damaged.
World Vision, which offers disaster relief aid, had supplies in the warehouse.
It's not yet known the extent of the damage to the supplies.
The employees said their main focus over the coming days will be the cleanup process.
High water floods home, traps driver in Haltom City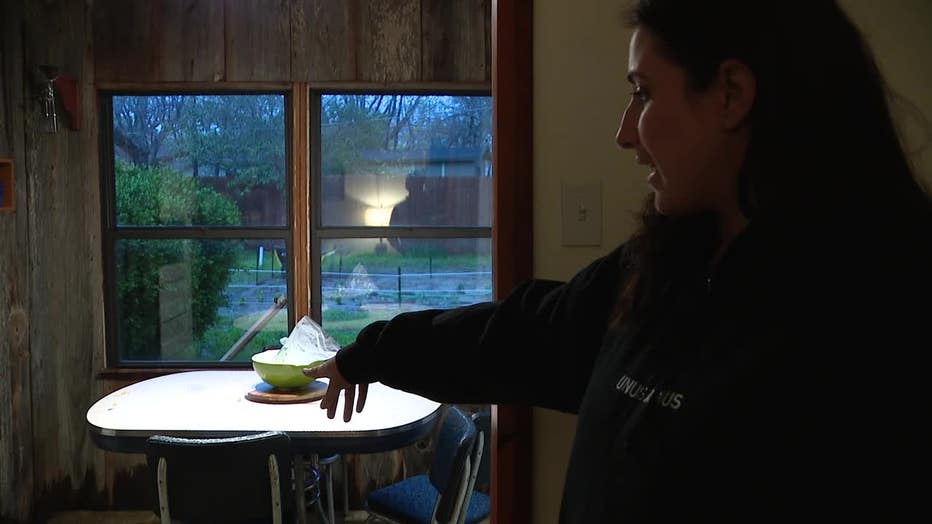 A family in Tarrant County has a lot of cleaning to do after the storm surge ended up inside their Haltom City home.
The woman who lives there said enough water poured into her kitchen to move a floor mat near the sink.
She said a lot of that water is still under the carpet.
"The floor is still wet under there, under the bed, and over here. You can actually still feel water underneath the floorboards, and it came to about here, so. And when you'd step down on them, the water would squish up," Katherine Fite said.
She said other storms have caused some flooding in her backyard, but this is the first time the heavy rain came into the house.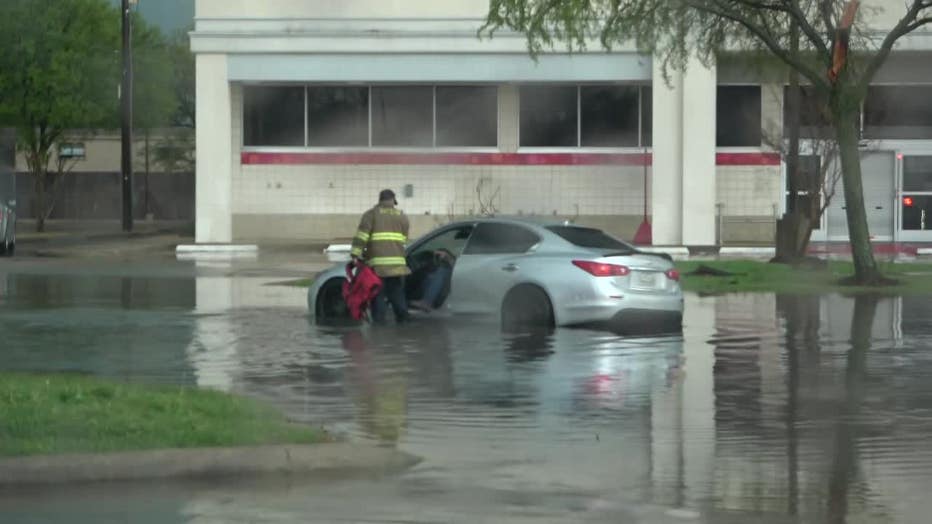 The fast-rising water also trapped one driver in Haltom City near Highway 377 and Broadway Avenue.
Thankfully, the driver was able to make it out safely once firefighters arrived.
MORE: Dallas-Fort Worth Weather Forecast
Storm flips truck in White Settlement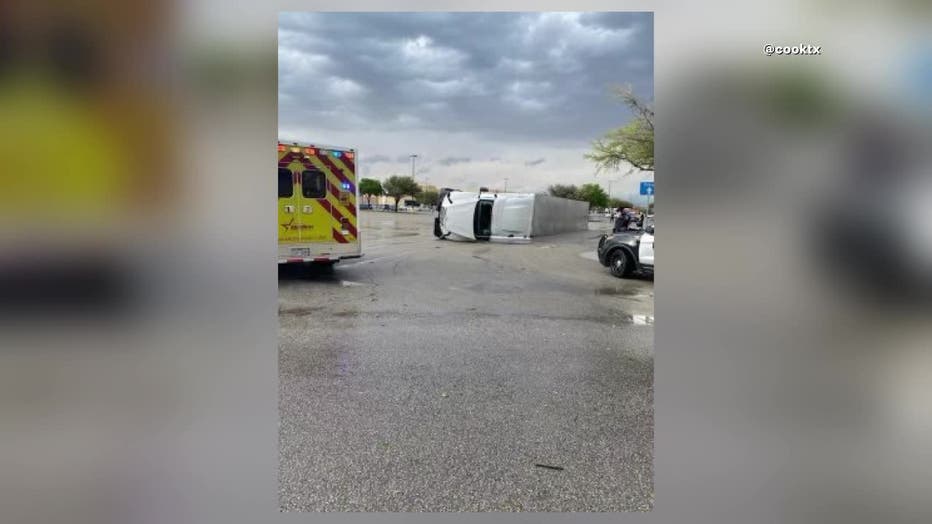 Two people had to be rescued after their truck overturned during the storm.
Police in the Fort Worth suburb of White Settlement said the truck flipped in a parking lot along State Highway 183 at Hawks Creek Avenue, north of Interstate 30.
Thankfully, the people inside were not hurt.
Parker County Hail Damage
In Parker County, large hail damaged several cars and homes.
Crystal Webb sent FOX 4 cell phone video from her mom's house in Weatherford.
"Huge hail, probably golf ball size to start out with. Hail was just pounding all around. It sounded like a war zone. It was it was loud. It was large. I've never seen anything like it," Webb recalled.
Hail shattered the rear window of her mom's car. It also cracked the front windshield.
That's a big loss for Kay Harrelson.
"I can't walk, I'm in a wheelchair, and so it has my wheelchair lift on it," she said. "And we're lucky that my son-in-law come in, brought a car and put the little boy on his car and let us use it until we can get everything taken care of."
This couldn't have come at a worse time for Harrelson.
Her husband passed away last week, and Friday is his memorial service.
Luckily, she has family there with her to help pick up the pieces.
Her daughter said they have a firm belief in God and know they'll be taken care of.
Corsicana Tornado Damage
Courtesy: Navarro County Office of Emergency Management 
An EF-1 tornado with winds up to 95 miles per hour touched down in the northern parts of Corsicana.
The Navarro County Office of Emergency Management shared photos of some of the damage.