Dallas PD will have a presence on Lower Greenville for St. Patrick's Day events this weekend
DALLAS - Even though the annual St. Patrick's Parade along Greenville Avenue in Dallas has been canceled for the second year in a row, the Dallas Police Department and other law enforcement agencies will be out on Lower Greenville this weekend to make sure St. Patrick's Day celebrations stay safe.
Dallas police and Councilman David Blewett released a statement that authorities will take "proactive steps" to make sure businesses that hold St. Patrick's Day events are following local laws and regulations.
Governor Greg Abbott reopened the state Wednesday and took away COVID-19 restrictions.
RELATED: Wednesday marks end to mask mandate in Texas
Though businesses are allowed to fully reopen, and the mask mandate and other restrictions were lifted, North Texans are asked to follow the latest CDC guidelines, avoid large crowds, and maintain six feet of distance from others.
The annual St. Patrick's parade along Greenville Avenue usually brings 125,000 people to the area, but it's unclear how many people will be in the area, or events will be held by local bars this weekend.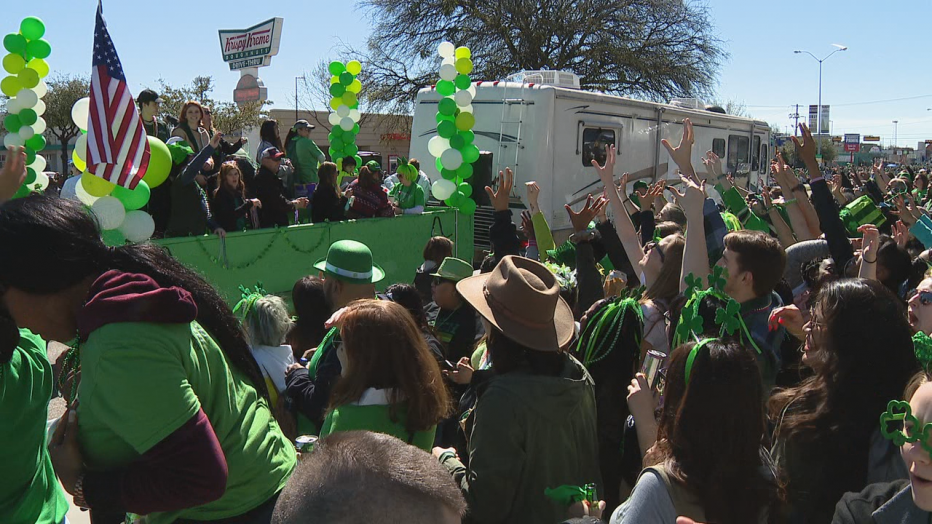 Some businesses are trying to make the most of it, while some people have concerns about what could pop up.
"I mean, when it happened we were all like, ahh, this will be all over in a month or two, this will be over in three months," said Peter Kenny, who owns Dubliner Irish Pub.
Kenny said he earns two months-worth of business on a single-parade day, but it's cancelled again, this year.
"Business is just wiped out," he said. "Paying your bills. That's all you're thinking of day-to-day."
While there's not a planned parade or block party, there are private events scheduled.
"But we simply can't have some kind of a super spreader event. We cannot have people pushing the envelope," Councilman Blewett said.
Blewett said the city will take proactive steps to manage crowds.
"My consideration is if a significant number of people come down here, it's not just occupancy limits of the restaurants and bars, it's traffic and it's a safety consideration. A lot of these streets are narrow. If you parked on both sides, fire vehicles, police vehicles couldn't get in if they needed to," he added.
So the Dallas Police Department, fire department, code enforcement, and others will have a larger physical presence in the Lower Greenville area.
"So I want safe, incremental opening of our economy, opening up of our service industry. I want this weekend to be successful but I want it to protected and safe for the neighborhoods," Blewett said.
Kenny also operates Lochlands in Lake Highlands.
He opened it last February, so the pandemic hitting before St. Patrick's Day hit him twice as hard.
"And then we just get that scary shutdown and, yeah, it's a very scary year," he said.
He plans to have both open this weekend, but said masks are required while getting to a seat and he won't allow more than capacity. 
A way, he says, to moderately celebrate.
"We'll still be there. Have a pint of Guinness. A little shot of whiskey and enjoy it," he added.
Several other Lower Greenville bars will be holding St. Patrick's Day events Saturday, March 13, including Dodie's and Stan's Blue Note.
Stan's Blue Note said their staff will continue to wear face coverings, but customers are not required to wear face masks.
It's not known what face covering policies other bars will have.
RELATED: Dallas Greenville Avenue St. Patrick's Parade canceled in 2021, but expected to be back in 2022