Dallas officer killed in wrong-way crash mourned, memorial placed outside police substation
DALLAS - A police cruiser has been placed in front of the Dallas police substation where Officer Jacob Arellano worked.
The 25-year-old officer died Wednesday after being hit by a wrong-way driver while on the way to work. 
Police said the suspected drunken driver was traveling in the wrong direction on Spur 408 near Kiest Boulevard in south Dallas.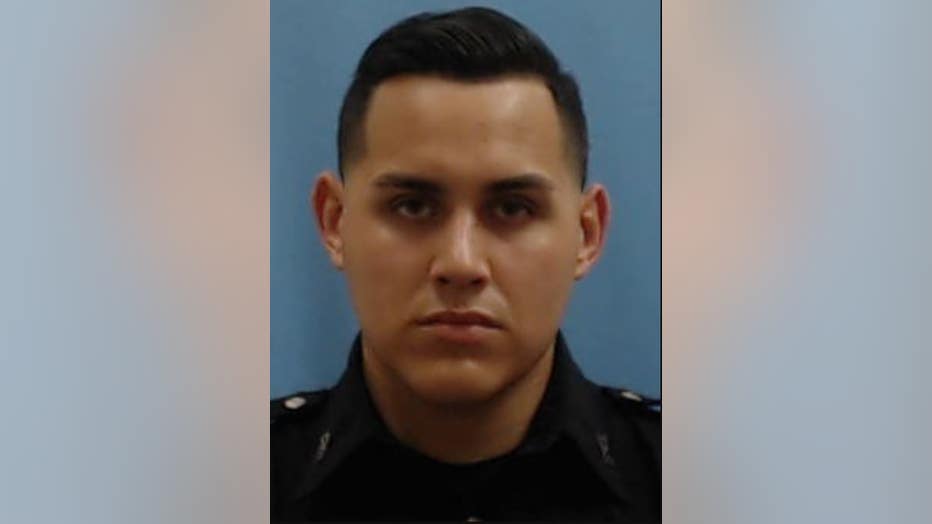 Mourners have stopped by the Northwest Patrol Division to place flowers on one of the patrol cars Officer Arellano would drive.
"The first responders, the police, the firemen, they give so much. They give everything. They are needlessly taken away from us. It just, it just breaks your heart," said Bruce Perlstien, who visited the memorial on Thursday.
Those who knew Arellano say he was a natural leader.
Arellano was a standout football player at his high school in El Paso and played college ball at New Mexico State University.
Meanwhile, police have not yet announced the identity of the wrong-way driver police say struck and killed Arellano late Tuesday. That driver remains hospitalized.
Across the state, Socorro High School in El Paso, where Arellano was a football standout, took the field for a game Thursday. The team held a moment of silence for Arellano before kick-off.
As people in the community in El Paso and North Texas pay tribute to a young officer killed on his way to work, those who knew Arellano growing up say it was not a surprise he became a police officer. 
Gilbert Mena coached Arellano at Socorro High School in El Paso.
"He could just mesh and bond with so many different people," he said. "And he was very calming when he came up to you. Like I mentioned before, it wasn't intimidating."
Arellano was a star defensive lineman, going on to join the football team at New Mexico State University.
"Of course, physically one of the bigger, more imposing individuals. But he was such a gentle giant," Mena recalled. "Anyone could go up to him. Anyone could ask him for help, whether on the field, the weight room, the classroom. His personality was not intimidating whatsoever."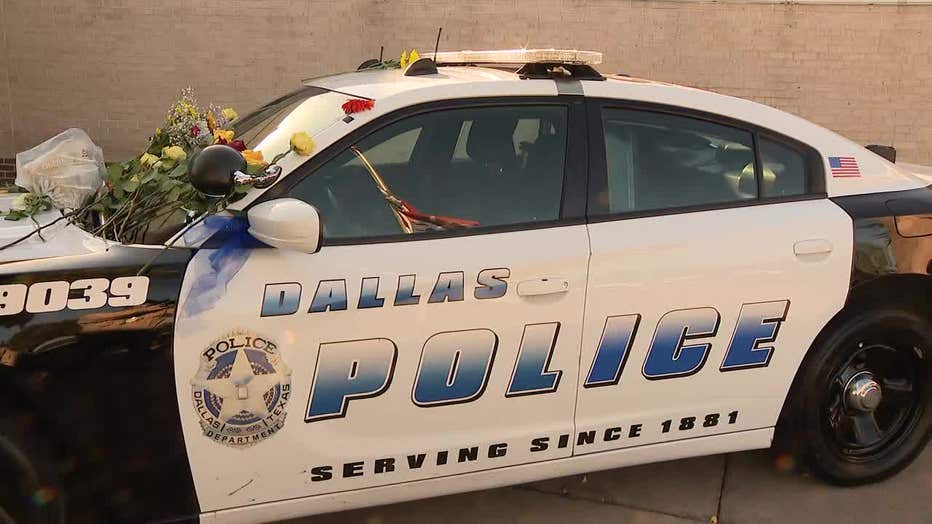 Friends, fellow officers and members of the community have placed flowers on one of the squad cars that Dallas Police Department Officer Jacob Arellano would drive. He was killed Wednesday in a crash with a suspected drunken driver.
Arellano was headed to his shift on the first watch just before midnight Tuesday.
Police say a suspected drunk driver headed the wrong way struck Arellano's SUV on Spur 408 near Kiest Boulevard. He was taken to the hospital where he later died.
Mena reflected on a favorite memory with Arellano on his senior day.
"As he walked through, got his bouquet before the game started, came up to me, gave me a real big hug and just very straightforward. 'Thank you for everything, coach. Thank you for always being there. For me. It means a lot. And I'll never forget what you what you've done for me,'" he recalled. "And I said, 'Pleasure's all mine, Jake.' And I told him at home, 'I love you, man.'"
Dallas police say the driver who struck Arellano, a 31-year-old woman, was taken to the hospital in serious condition after the crash. There's been no update on her status.
Friends are now thinking about the Arellano family, his girlfriend and infant, parents and twin brother, who is also a Dallas police officer.
"You couldn't think of one without the other. They were amazing on the field, amazing on the classroom," Mena said. "I don't even want to imagine what Josh is going through right now. But when I see him, when I talk to him, I'm going to make sure that he knows I'm there for him. As will be all the other coaches that we were blessed that these two young men crossed our path."