Dallas mayoral candidates Griggs, Johnson discuss several key issues during debate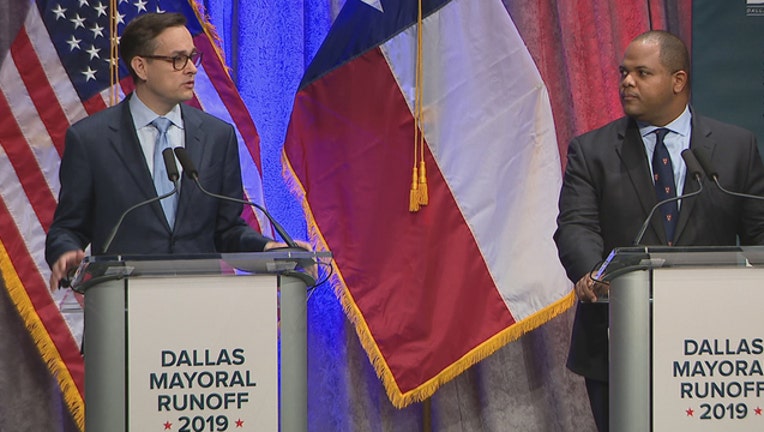 DALLAS - There was a debate held Tuesday night for the two candidates in the runoff for Dallas mayor to discuss several key issues impacting the city, including integrity and ethics.
State Representative Eric Johnson and City Councilman Scott Griggs debated at El Centro College in downtown Dallas.
One of the topics discussed in the debate was how to prevent city hall corruption.
"We need to start recording closed executive sessions at Dallas City Hall, then when there is no longer a reason to keep that information secret, let's release it to the public," Griggs said.
"What we will do is we will bring in experts, people who have designed the Texas Ethics Commission, to help us redesign ours," Johnson said.
The candidates were also asked about Dallas County District Attorney John Creuzot's plans to decriminalize marijuana possession and no longer prosecute "theft of necessary items" up to $750.
Griggs supports not prosecuting small amounts of marijuana, adding that he supports legalizing marijuana. He also said he agrees with the "spirit" of not prosecuting small amounts of theft.
"We do not want to criminalize poverty in the city of Dallas, but I've got a lot of practical concerns about how this is going to work," Griggs said.
Johnson said he believes in being "smart on crime," and thinks Creuzot is trying to move in the direction that criminal justice is heading in this country, but would still need to discuss how he plans to implement these ideas.
"I support the idea of not excessively criminalizing crimes that are really driven by things like a drug addiction or things like that, where the true victim is yourself," Johnson said. "But, and this is a big but, and it's important, we can't have a society where people feel like they can steal $750 worth of stuff, and it's not going to get prosecuted. That has to be dealt with."
Griggs is endorsed by the Dallas Police and Firefighters Associations, while Johnson has been endorsed by three former Dallas mayors. 
After Tuesday's debate, Johnson picked up several more endorsements from city leaders.
Current Dallas Mayor Mike Rawlings and seven city council members joined in supporting Johnson.
Early voting for the runoff starts May 28, with the election taking place on June 8.