Dallas man wins bet to name son 'Tiger' after Woods wins the Masters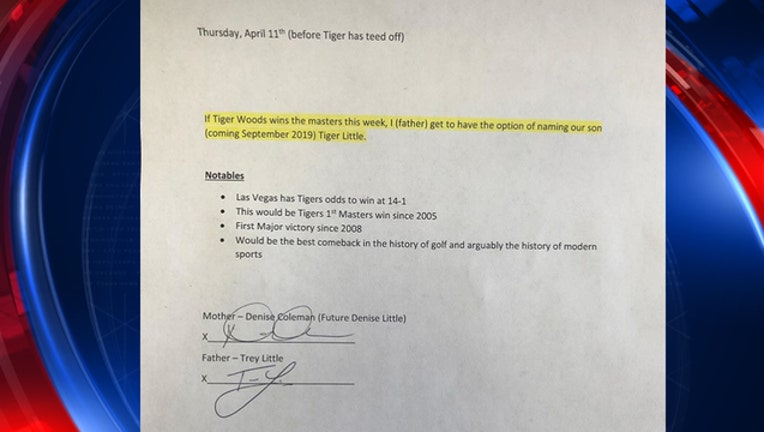 Tiger Woods' win at the Masters on Sunday had people across the globe jumping for joy, but it also had special meaning for one Dallas couple because it helped them name their child.
Trey Little and his wife Denise are expecting a baby boy on September 19, but they hadn't been able to pick out a name for their upcoming bundle of joy.
Trey, who is a huge Tiger Woods fan, had been pushing for the name Tiger since the beginning of the pregnancy. He had been jokingly dropping baby Tiger hints for several months. The two found out last month that their baby would be a boy, and Trey decided to bet his wife that if Tiger Woods won the Masters, they would name their son Tiger.
The two work together, so before Woods teed off for the Masters on Thursday, Trey typed up an agreement that, "If Tiger Woods wins the masters this week, I (father) get to have the option of naming our son (coming September 2019) Tiger Little."
He then asked Denise to meet him in the break room because he had something to show her. After seeing it, Denise laughed, before agreeing. The two signed the paper to make it official.
Trey added that Denise was never opposed to the name Tiger, and it was among the names they had been discussing.
"We wanted something unique, something different," he told FOX4.
Trey said he wasn't expecting Tiger to win the Masters, but was hoping it would happen.
He also said he made the bet to add some excitement for Denise, and add some incentive for her to watch four rounds of golf.
Tiger was two shots behind the leader, Francesco Molinari, heading into Sunday, and with rain chances causing early tee off times for the final round, Trey had to get up early to catch Tiger's fourth round.
Tiger started moving up the leaderboard throughout the round, and finally got into first late in the round. 
Trey said it didn't start feeling real until the back nine, but when Tiger did win, he and Denise were excited. Not only for Tiger getting his 15th Major Championship win, but for the baby Tiger Little who is coming later this year.