Dallas ISD superintendent focuses on transformation in 2020 State of the District address
DALLAS - Dallas ISD Superintendent Dr. Michael Hinojosa shared some of the district's achievements for the year and talked about focusing on the future in his annual "State of the District" address.
A packed house heard the superintendent share the hurdles the district has overcome, those they still face and his hopes for the district's future.
Beyonce's "I Was Here" set the atmosphere for the superintendent's address, with the theme of "Transforming Dallas ISD."
"We're on quite a journey and it's because of the support that we're getting from all of you," Hinojosa said.
He discussed district success stories, like improved academic programs. He pointed out Titche Elementary, for fifteen years academically unacceptable, is now bringing home good grades.
"And in one year -- same kids, same neighborhood, same parent -- it went to a B school," he said.
Hinojosa also celebrated the long overdue new South Oak Cliff High School.
"Because we weren't doing right for those students and we weren't doing right for that community," Hinojosa said.
The superintendent announced new initiatives, with DISD planning to start some afterschool-care pilots for infants and toddlers.
He hinted at the largest bond package in school history -- around $3 billion.
"Booker T is so popular we've created a digital and technology arts creative high school that's going to complement it and were going to try to put in the old Adamson [High School] if we can get a bond passed around here," Hinojosa said.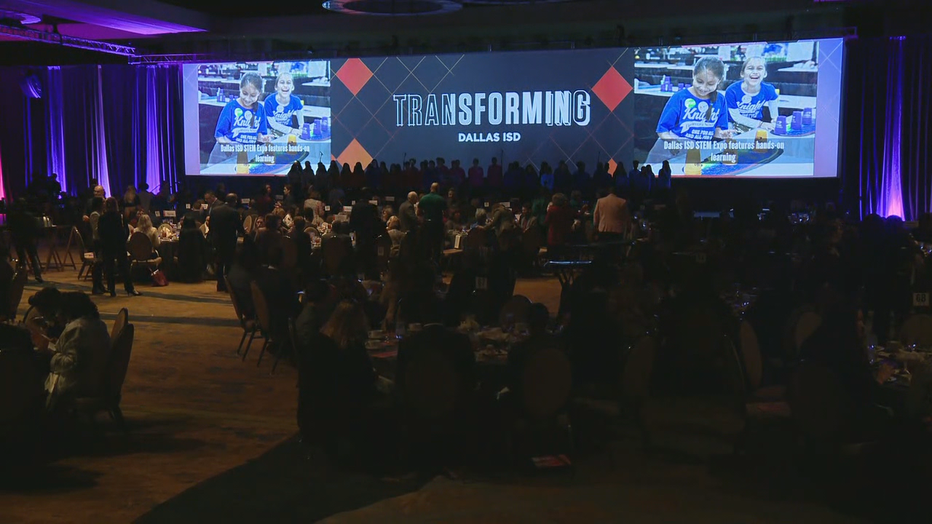 Hinojosa said the 2019-20 school year was off to a great start until the night of October 20.
"I looked at my calendar and there was no tornado on my calendar," he said.
Three Dallas ISD schools were destroyed when tornadoes tore through North Texas. The superintendent vowed Friday to quickly rebuild.
"We're going fast, because by August '22 we want this building open. We're gonna have a pre-k to eight on one end and the rebuilt Thomas Jefferson is going to be looking just a good as South Oak Cliff," Hinojosa said.
The superintendent's greatest concern right now is the students displaced at Thomas Jefferson. Most are doing well, he says, but some are struggling after what happened.
The tornado is just one of many challenges still facing the district.
"While we stumble through some things, I think in the end we have an opportunity to become an urban district and we have an opportunity to transform," Hinojosa said. "We haven't transformed yet, but that's our goal."