Dallas Heat hosts 'Back the Blue' night to honor fallen officer
GRAND PRAIRIE, Texas - The Dallas Heat basketball team hosted a "Back the Blue" night at their game in Grand Prairie.
Saturday's game included a special honor for fallen officer A.J. Castaneda.
The team traded their red and black team jerseys for specialized ones to honor law enforcement.
On their chest, was a badge that said A.J.
Honoring the life of Grand Prairie officer A.J. Castaneda.
"Just to show our respect further and make it something the family knows we are not just half-heartedly doing something," the owner of the Dallas Heat, Mason Brawley, said.
Castaneda was doing radar on the shoulder of the Bush Turnpike when a driver lost control, hitting and killing him.
Saturday, his family was honored with a specialized jersey with his name on it.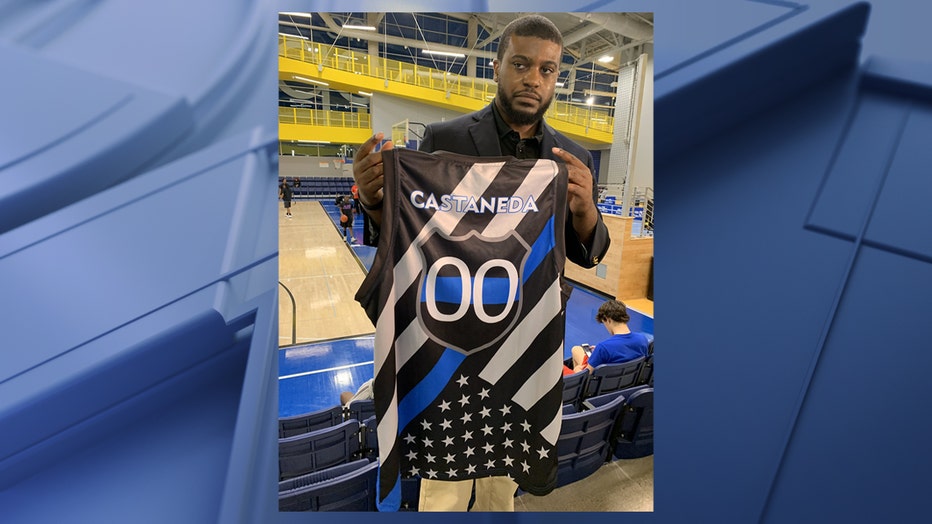 RELATED: Grand Prairie officer dies after crash on Bush Turnpike
Grand Prairie PD Assistant Chief Anthony Hogan said he's never seen something quite like this.
"I think Elijah and the rest of the family are having a great time. That jersey is something that he will remember forever. On the back of it has Castanedas name, and the players today are wearing A.J. on the front. I think he will remember it forever," he said.
With Castaneda's fellow officers in blue in attendance.
Brawley said this gesture is the least they can do to honor a person who died protecting the community.
"We have so many people who go over for wars and protect us, but sometimes we forget about the people in blue that protect us every day," he explained added.
The Dallas Heat are in their second year.
The team hopes to continue to provide positive outlets for young people in the community.