Dallas family lost home to fire just days after Christmas
DALLAS - A Dallas family lost their home after it caught fire just days after Christmas.
It happened after a power outage in their West Dallas neighborhood.
As the family was leaving to visit another family member's home, that's when they got a call from a neighbor saying their house was up in flames.
Five family members lived inside the home, which is now unlivable. Now, the family is staying a hotel indefinitely, completely starting over. 
But Billy Morris is just thankful his family is safe, including his two little girls.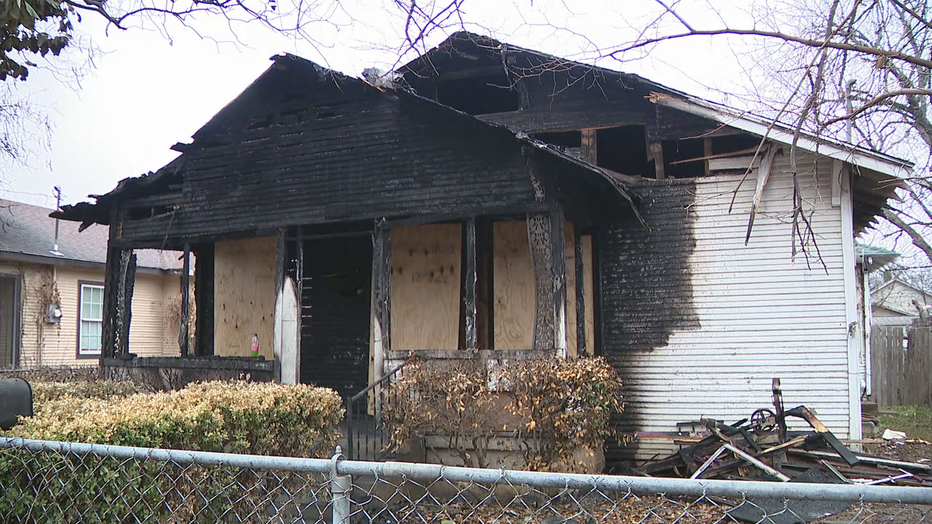 Morris lost his childhood home, a home he said he still plans to raise his children in, showing immense strength just days after all of his belongings were burned.
"It's definitely hard," Morris said. 
A house with history, once filled with a mountain of memories, is now gone.
A reality that's still hard for Morris to take in. 
"Everything is gone," he said.
A fire, sparking two days after Christmas, tore through Morris' Dallas home where he, his two young girls, and their mother all lived.
"And it went, [snaps] just like that," Morris said.
Less than two weeks later, the framework is still weak. 
"The strength come from the things that I was shown and told," he added. 
A lesson Morris said he learned from his mother in this same house. 
Morris grew up off Angelina Drive and eventually moved out. 
But when his mother passed away 13 years ago, he came back to raise his own family. 
The day of the fire, Morris remembers hearing a transformer blow nearby, causing the street's power to go out. 
About 15 minutes later, the lights came back on, but his family was already on their way out the door to visit a relative. 
"I guess it's just the way the Lord planned it," Morris said.
The Morris family only made it a few blocks away before a neighbor called to tell them their home was engulfed. 
The family was forced to watch just feet away as Dallas Fire-Rescue put out the flames. 
"Just because I'm a man, don't mean I don't feel things," Morri said.
Morris is taking time off of his job as a custodian at Sunset High School to rebuild on the same lot he said he will never let go. 
"I am going to go to work every day, but when I get out of work, I'm going to work here until I go to work the next day," Morris said.
Morris has started a GoFundMe page for those looking to help the family through this time and with the rebuilding project.
READ MORE: Garland police officer arrested for intoxication assault charge on New Year's Day