Dallas Cowboys, National Medal of Honor Museum team up for Veterans Day salute Sunday
ARLINGTON, Texas - Renderings show what the National Medal of Honor Museum that's going up in Arlington will look like.
It will be America's place of tribute to those who earn this country's highest symbol of valor in combat.
The National Medal of Honor Museum will be part of the halftime festivities at Sunday's Dallas Cowboys game, as the NFL and FOX honor America's veterans.
"This weekend is the salute to service game for the Dallas Cowboys. Every NFL team has a game centered around Veterans Day," National Medal of Honor Foundation President and CEO Chris Cassidy said.
When the Cowboys take the field against the Denver Broncos Sunday, the team will wear helmets with red, white, and blue stripes.
The team hasn't worn that helmet striping since the 1976 season, as part of the nation's bicentennial celebration.
RELATED: Dallas Cowboys to wear red-white-blue striped helmets to honor veterans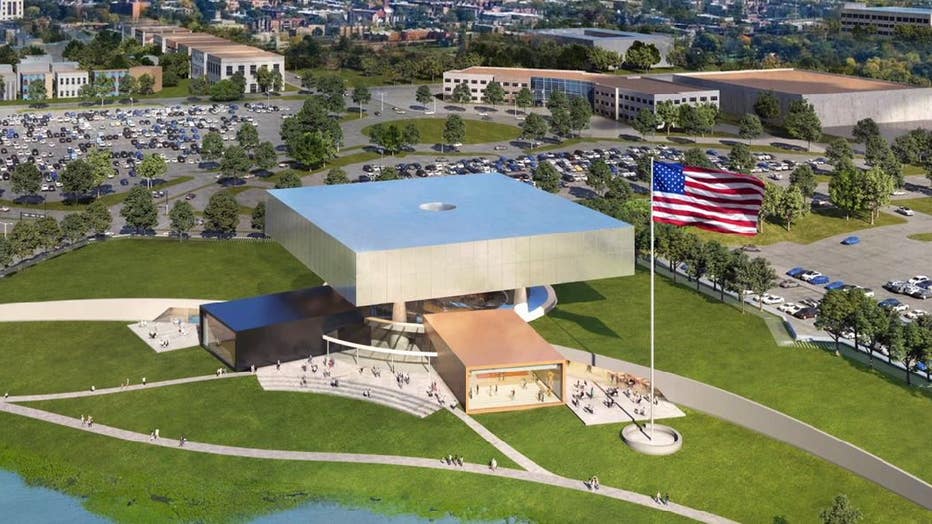 This year's outward respect is extra special, as part of the celebration is around those who will have a place in history in the soon to be built National Medal of Honor Museum.
Artist renderings envision how it will look when it opens in 2024.
"It's going to be a museum of stories of American heroes right here in Arlington, Texas," Cassiday said. 
Heroes like Medal of Honor recipient retired Army Major General Pat Brady, who now speaks at schools across the country.
Brady flew more than 2,500 combat missions in Vietnam and rescued more than 5,000 wounded.
"That's the beautiful thing about the museum, because it will preserve, it will be a sanctuary for our vales for courage, sacrifice, patriotism," Brady said. "It will be a where guys like me, people who have earned the Medal of Honor, will be able to serve our country long after we are dead."
RELATED: National Medal of Honor Museum to be built in Arlington
Former Presidents George W. Bush, Bill Clinton, and Barack Obama will appear in a public service announcement in support of the museum, that will release Sunday, asking America to give to the museum's fundraising campaign 
"Those folks and our Medal of Honor recipients will be honored and our founders level donors will be honored at half-time on the field," Cassidy said.
FOX NFL Sunday will have a special two-hour Veterans Day broadcast from the Naval Academy in Annapolis, Maryland, starting at 10 a.m.
"FOX Sports has really been fantastic in cooperating with being willing to share the message of the National Medal of Honor Museum," Cassidy added.
A weekend of saluting the service of the men and women who've given so much.