Dallas County reports record-breaking 300 new COVID-19 cases, 3 new deaths
DALLAS - Dallas County reported 300 new cases of COVID-19 and three new deaths on Wednesday, setting a new daily record.
The new reported deaths include: a Dallas woman in her 40s with underlying health conditions, a DeSoto man in his 70s with underlying health conditions and a Garland woman in her 80s. She lived at a long term care facility and did not have any underlying issues.
This brings the total case number in Dallas County to 12,945 and 274 deaths.
RELATED: Interactive map of Texas COVID-19 cases
At the city, county, and state levels, officials pointed out there is more testing, which can lead to more positive tests.
In a socially-distanced line outside the American Airlines Center Wednesday, stood some of the feet that have marched in recent days.
This time, they gathered not to demand justice, but for peace of mind.
"It was very easy, quick and painless," Daniel Hardaway said.
Hardaway is among the people who took advantage of a walk-up COVID-19 testing site for people who took part in protests five or more days ago.
"I haven't' seen my family out in Houston for over three months and I don't want to bring anything back to them and limiting my exposure, but feeling the need to actually get out there for this," he said.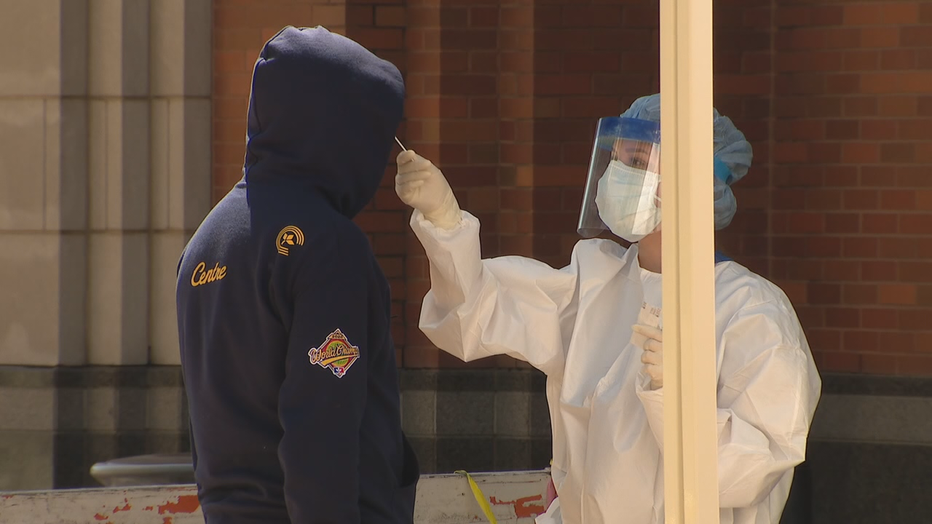 Dr. Kelvin Baggett, the czar appointed by Dallas' mayor to respond to COVID-19, rolled out a 10-step guide Wednesday with advice for people to stay safe while protesting.
"There are two historic events taking place right now," he said. "Protests around racial injustice, as well as what we are seeing with regard to the pandemic."
The city also hopes to continue to make tests available for protesters for as long as protests continue.
"There are also some concerns, and I have them too, as to what these large group protests will mean for the spread of the virus," Dr. Baggett said.
The city is still waiting to see if protests lead to more community spread.
The 300 cases reported Wednesday in Dallas County is a record, and COVID-19 hospitalizations jumped too, from 321 on Monday, to 372 Wednesday.
READ MORE: Texas has surpassed 2,000 hospitalized coronavirus patients for the first time
Statewide, there has been a record-breaking number of hospitalizations the last three days.
In an interview with FOX4's Steve Eagar, Governor Greg Abbott said he's not alarmed.
"While there are more people in hospital beds, there is plenty of capacity to make sure that they'll be taken care of," Gov. Abbott said.
The governor pointed to people letting their guard down, Memorial Day, and protests as possible reasons for additional cases.
The state will allow restaurants to expand to 75 percent capacity Friday.
The governor doesn't plan to change that.
"Again, there's plenty of hospital capacity to be able to treat anyone who contracts COVID-19, but that said, we will continue to monitor this and make sure the spread of COVID-19 remains as contained as possible," Abbott said.
Testing will be available from 2 p.m. to 5 p.m. in front of the AAC, and city officials said they are hoping to keep that going.