Dallas County officials already getting prepared in case coronavirus outbreak hits North Texas
DALLAS - There are no coronavirus cases in North Texas, but Dallas County administrators have said they're leaving nothing to chance.
Health officials are being proactive and are planning for the possibility of a widespread outbreak.
Dallas had the unfortunate distinction of dealing with the Ebola virus.
And even though it is very different from the coronavirus, from an emergency management standpoint, there was a lot to be learned.
"If there is an outbreak in an area, then we would want to have a plan," Dallas County Judge Clay Jenkins said.
Jenkins was front and center in 2014 when the deadly Ebola virus landed in Dallas.
"America is taking pandemics and the possibility of outbreaks much more seriously," he added.
Ebola hitting so close to home provided invaluable lessons for emergency management.
Jenkins said the CDC has upgraded several of its guidelines for handling certain patients, and Dallas County continually drills for potential disease outbreaks.
They are now preparing for the coronavirus.
"I feel that we are as prepared, maybe more prepared that any other large urban area for this," Jenkins said.
He said there are protocols in place to screen at airports. DFW Airport was selected for screening by homeland security a month ago.
First responders have their own guidelines if an ambulance is called for a possible coronavirus case.
The patient will likely go into home isolation, with frequent checks by county health officials.
If they need medical care, hospitals can also isolate patients.
"Right now, we have isolation capacity for a few people. but you have the ability to ramp up," Jenkins explained.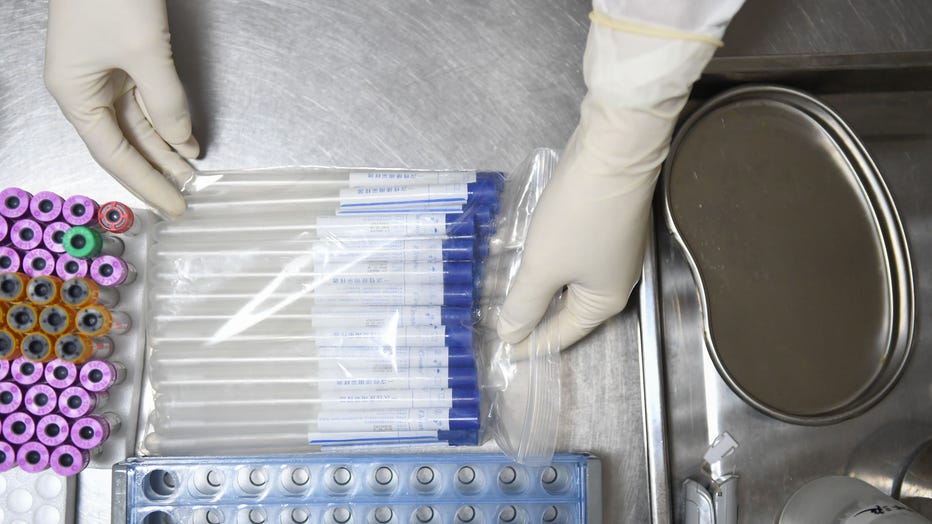 FILE - Yi Junfeng arranges test kits at a fever clinic of Hunan People's Hospital in Changsha, central China's Hunan Province, Feb. 7, 2020. (Photo by Xinhua/Chen Zeguo via Getty Images)
Depending on how many people an infected person came into contact with, the number of people needing to be monitored for symptoms could grow quickly.
In northern Italy, for example, the case numbers jumped from four patients to more than 300 in a matter of days.
If there are numerous positive tests in North Texas, Jenkins said they've identified locations -- not to be made public -- for those patients.
"I've instructed public health to find me those beds, if you will, and how we'll staff those beds," he said. "But right now, we are looking at existing medical resources."
The signs of amplified coronavirus fears are visible in North Texas stores.
Higher rating N-95 face masks are flying off stores shelves, and are also out of stock online.
While the CDC does not recommend people who are well to go out and buy masks, doctors and health officials are preparing for cases here.
Doctor's offices, like one in Bedford, have posted signs telling patients to talk with their doctors about any possible coronavirus symptoms, and public officials said they have drilled for similar disease outbreaks.
Dr. Diana Cervantes teaches at the UNT Health Science Center and was a chief epidemiologist at the state level during the Ebola response in 2014.
"This is transmitted in a different way, so it could be an even greater burden," she said.
While Ebola is significantly more deadly than the coronavirus -- 50 percent compared to 2 percent -- the coronavirus spreads much more easily.
Dr. Cervantes said it could place a bigger burden on the healthcare system.
"In Ebola, it was very intimate contact, bodily fluids. That's why you saw healthcare providers who got sick more than the general public. With this coronavirus, you're seeing people out in the community because it is respiratory," she said. "So you're more likely to have more cases."
At this point, it's important for people to pay attention to public health officials, and listen to their advice.
"There's always going to be fluctuations based on different administrations and other political pull, but it's important to know that, yes, this situation is constantly changing and they are constantly trying to update it, but the CDC has great guidance," Dr. Cervantes added.
Health officials are not urging people to do anything drastic at this point to prepare.
Simply keep up with the good hygiene and tips you follow for the seasonal flu, but Dr. Cervantes said it is important employers and other organizations stay in close contact with local health departments and discuss their plans.
On Thursday, Governor Greg Abbott will hold a briefing with health agencies and first responders in Texas.
The governor said the state has been working with the CDC for weeks.