Dallas County monkeypox cases climb to 52
DALLAS - Dallas County says it received another shipment of monkeypox vaccine, but it's only 100 doses.
Dallas County ran out of the monkeypox vaccine as cases climb. There are now 52 confirmed cases.
The county said it ordered another 300 doses from the federal government last week but does not know when they will arrive.
Vaccination appointments are limited to people who have had direct contact with an infected person.
Man may have spread monkeypox in Dallas, health officials say
The county admits it could be months before the vaccine is widely available to anyone who feels they may need one. 
The 100 doses of the monkeypox vaccine were delivered to Dallas County Health and Human Services on Friday. The small shipment arrived as the DFW Region leads the state in new infections.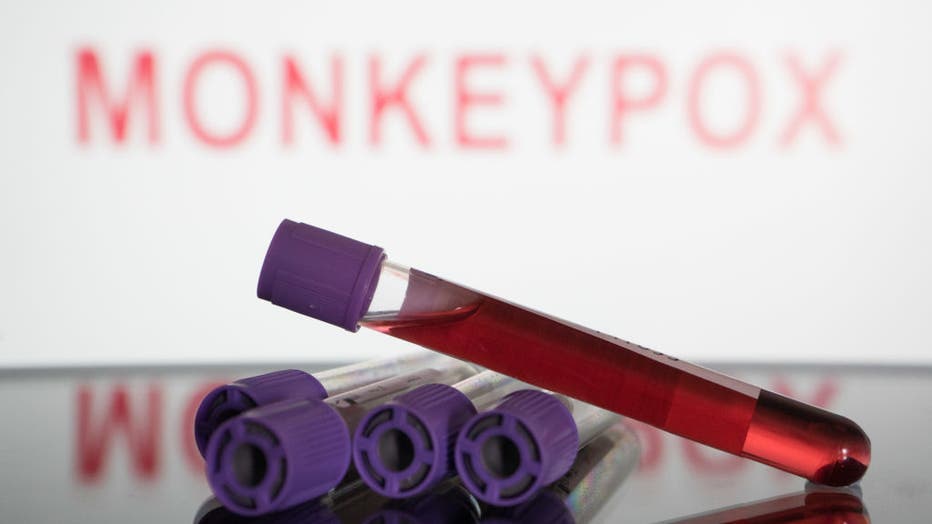 In this photo illustration, blood test vials are seen in front of a screen that says ''Monkeypox'' (Photo illustration by Nikos Pekiaridis/NurPhoto via Getty Images)
Of the 183 statewide cases, at least 89 of those are in North Texas with more than 50 in Dallas County.
Dr. Philip Huang, director of Dallas County Health and Human Services, says simply the supply of doses coming from the federal government is limited. 
"We hope to get more," he said. "And it's happening nationwide in difficulty in getting vaccines, and we are all anxious to get more.
If administered within four days of exposure, the monkeypox vaccine can protect someone from getting sick. 
The county is expecting at least 500 more vaccines by early next week. 
Even then, only people who have made skin-to-skin contact with someone who tests positive will be eligible first. 
"It's unfortunate that we have had limited vaccine. We are trying to prioritize those who have the highest risk," Dr. Huang said.
According to the CDC, the current global outbreak of monkeypox is being driven by men having sex with men.
That's not the only way the virus is spread, but it is factoring into the vast majority of the new cases, including the ones in North Texas.
For the LGBTQIA community, the fear of exposure is real.
Rafael McDonnell with the Resource Center in the Oak Lawn neighborhood of Dallas says he's seen the demand for vaccines and testing firsthand.
"The resources out there are not what anybody would want right now," he said. "We want more testing and vaccines, but the numbers aren't there right now, and that's frustrating."
But McDonnell says all they can do right now is steer people toward county and state health departments.
"Right now, we have asked for vaccines from our health partners, and they aren't out there," he said.
According to the CDC, there are more than 2,800 monkeypox cases nationwide. 
The Biden administration is allocating the vaccine doses it has across the country.
In New York where the outbreak is much larger, enough vaccines were shipped to at least give one dose to half of the at-risk population there.
That's not the case in North Texas.
And with limited resources, McDonnell says the best they can do is ramp up public health messaging.
"This is a fluid situation. Supplies could increase," he said. "I am hoping they increase rapidly, and that's the only way we are going to calm this situation."
In Denton County, two more people there likely have monkeypox. They could be the second and third cases in the county.
The county is waiting for the CDC to confirm those test results. In the meantime, it is conducting contact tracing for anyone who may have had direct contact with the infected patients.
What is Monkeypox? What are Monkeypox symptoms? Answers about a rare disease