Dallas County kids among 1st in North Texas to get pediatric COVID-19 vaccine
DALLAS - Many North Texas counties have already received their first shipment of the Pfizer pediatric COVID-19 vaccine.
Dallas County Health and Human Services got 3,000 of the kids-sized doses.
Judge Clay Jenkins said school nurses are being trained on the new dose draw, though some kids were able to get their first shot Wednesday.
Some Dallas County students, ages 5-11, were among the first in North Texans to get the newly approved, kids-sized dose of the Pfizer COVID-19 vaccine.
The first dose was given at the Dallas County Health and Human Services Stemmons Immunization Clinic, with relieved parents nearby.
RELATED: CDC approves Pfizer's COVID-19 vaccine for kids 5 to 11
"It was very simple and easy and it's going to be effective. We're just very happy that he will be protected very soon," parent Matthew Good said.
"Our whole family will be vaccinated and it gives me peace of mind. We'll be able to do more fun things," parent Emily Cabral said.
For their son, 4th grader Finn Good, that means being able to go to Disney World, finally.
"Later, like in the springtime, we'll be able to fly places instead of having to drive all over the place," he said.
The state health department has instructed the CDC to ship 1.3 million doses of Pfizer's pediatric vaccine to more than 900 providers statewide.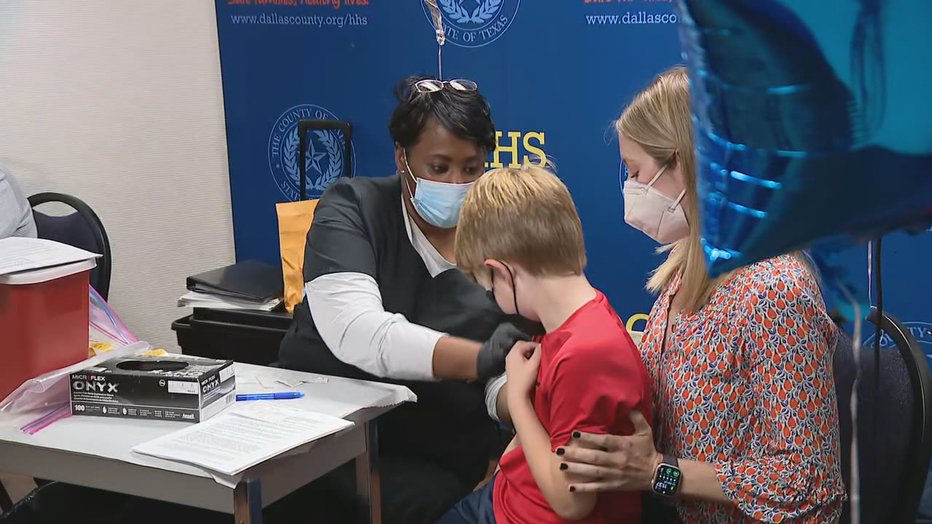 RELATED: First pediatric COVID-19 vaccines to be distributed in North Texas beginning Wednesday
Many Dallas County students will be able to get the vaccine in school.
"Just like you sign a permission slip to go on a field trip, you can sign a permission slip with a DISD nurse to give your kids a shot," Jenkins explained.
"I think that's a gamechanger in a lot of ways," Dr. Erin Carlson.
Dr. Carlson is the director of Graduate Public Health Programs at UT-Arlington.
She said parents should feel confident in the FDA and CDC Advisory Panel's extensive scrutiny of the pediatric COVID-19 vaccine.
"What's different is the dose? The dose is one-third of the dose that would be used for the older age groups. Also, the needle is a smaller, needle that's used for this age group of kids 5-11. And we can differentiate the vials because the vial cap is a different color," Dr. Carlson explained. "This should be seen as a very liberating opportunity for our families, for our kids, for our communities."
Fort Worth and Fort Worth ISD will begin drive-thru vaccinations Thursday. No appointment is needed.
Denton County said, for logistical reasons it's going to hold off until next week because kids getting vaccinated this week will be due for their second shot around Thanksgiving and it doesn't want to disrupt the holiday.
"So, next week we're going to be rolling out clinics that are going to be exclusive to 5-11 year olds," Director of Public Health Denton County Dr. Matt Richardson said. "That way, those kids will come due for that second dose the week after Thanksgiving and they'll be fully immunized prior to Christmas."
Denton County has 70,000 children in the 5-11 age group and 10% of them tested positive during the pandemic.
"Fortunately, we haven't had any fatalities in that age group, but what we do know is whenever 5-11 year olds get sick, they pass it to someone else," Dr. Richardson said. "And so this is both to protect small children and it's to protect family members, household contacts, and classmates in schools."
The state has put together a Pediatric Vaccine Provider Allocation List where people can find all of places where their child can get the Pfizer COVID-19 pediatric vaccine. Click here to see that list.
Don't be surprised if there aren't any appointments until next week, as many providers want to make sure the second dose appointment doesn't fall over the Thanksgiving holiday 
MORE: Coronavirus coverage