Dallas County judges get more flexibility on COVID-19 courtroom protocols
DALLAS - Dallas County judges will have more flexibility when it comes to COVID-19 protocols in their courtrooms.
Judge Maricela Moore, tasked with making COVID-19 protocols, has updated operating guidance that gives both civil and criminal district judges more latitude in use of their courtrooms.
"In coordination with Dallas County Health, I changed the protocols to the extent that I'm allowing the presiding judges of each court to determine whether or not they need to implement social distancing requirement in their courtroom," Moore said.
Until now, social distancing of six feet and masks for all in court was mandatory.
"The mask requirement absolutely remains in effect and that is not something the presiding judge has the discretion to change in their own courtrooms," Moore said. 
MORE: COVID-19 coverage
District Attorney John Creuzot said last week he doesn't know when criminal courts will ease restrictions.
A recent example -- the first trial of Billy Chemirmir, who was charged in the deaths of 18 women and ended in an 11-1 hung jury. Jurors sat where the family and public would sit, with the defendant and prosecutors facing them. Victim's family members complained they could not be in the court room and had to watch on TV next door.
Creuzot, who lost one of his employees to the virus, doesn't know when that might completely change.
"We're asking the judges and we are complying with the judge's rules and mandates on how they want to be safe and how they want their courtrooms run," Creuzot said.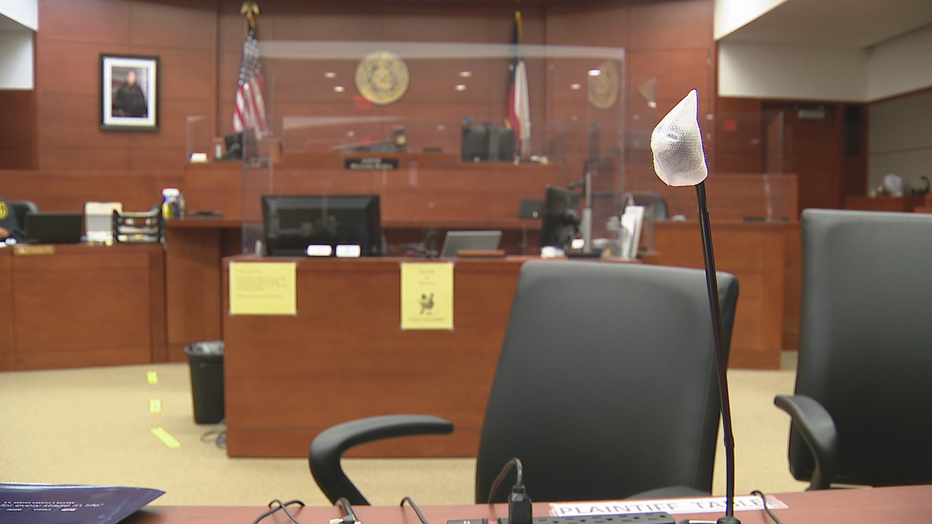 Moore said she understands what works in her court may not work in the criminal courtroom setting.
"Whether its six feet or three feet whatever the distance might be, simply one size does not fit all," Moore said.
And now, Moore is watching the new South African variant, Omicron.
"Very concerned and we are continuing to monitor the situation and so what we're doing today may not be what we do in two weeks from now. We simply don't know and I think anyone who suggests that they do know what is going to occur is simply not looking at what we've seen in the last 18 months," Moore said.
RELATED:
Billy Chemirmir trial: Dallas County prosecutors prepare for second trial
Billy Chemirmir trial: Mistrial declared after jury remained deadlocked 11-1