Surge in COVID cases forcing some North Texas standalone ERs to close
COMMERCE, Texas - The COVID surge is forcing some standalone ERs to temporarily close.
ER centers in Rockwall and in Commerce closed and will stop taking patients at midnight. 
Hunt Regional Healthcare in Hunt County announced Friday its staffing situation is at a tipping point due to what it calls a 'critical COVID-19 surge.' 
The rural hospital system says it's now forced to shuffle employees to keep up with patient demand. 
Starting at midnight, the emergency medical center in Commerce will stop taking patients. At 7 a.m. Saturday, the standalone ER will close temporarily. 
That means people in Commerce who need emergency care will have to go to the hospital in Greenville 20 minutes away, the ER in Quinlan 30 minutes away or hope an urgent care is open.
 It's unclear when it will reopen.
Up to 30 clinical staff members will be redirected to the Hunt Regional Medical Center in Greenville due to an urgent need for surge staffing. 
 Hunt Regional Medical in Greenville confirms its ICU is full with zero of its 16 ICU beds available. 
 The associate medical director of the Hunt Regional Emergency Department emphasized the effect of a strained health system on a rural community, writing "it's so upsetting to see this happen to a community that does not have rapid access to emergency care."
Last month, Hunt Regional issued a plea for the public to get vaccinated. Just 35% of Hunt County residents are fully vaccinated.
The same staffing shift is happening in Rockwall.
Late Friday, Texas Health Presbyterian Hospital in Rockwall said its standalone ER on Lakeshore Drive will close at midnight. The team working there will go to the main campus to help COVID-19 patients there.
About half the population of Rockwall County is fully vaccinated.
Hunt Regional says 28% of its patients have COVID-19. That's well above the 14% average of the 19-county North Texas trauma region.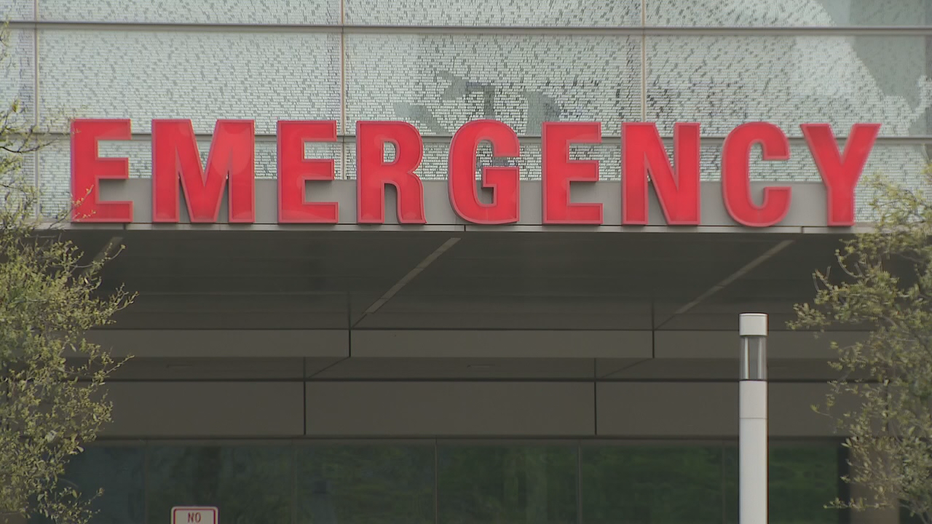 An emergency board of directors meeting will take place Saturday morning at 8 a.m. in Greenville to discuss how they plan to address the staffing shortage moving forward. The public is invited.
Hunt Regional Emergency Medical Center in Commerce is redirecting ER patients to other facilities and sending its staffers to Hunt Regional Medical Center in Greenville to help with the surge of patients.
"We will cease taking patients at midnight tonight and close at 7 a.m. [Saturday] morning," a hospital spokesperson said. "This will allow about 26 to 30 clinical staff to relocate from our Commerce facility to our Greenville facility.  These staff will be working in the inpatient areas as well as the Greenville ER."
The emergency medical center in Commerce hopes to resume normal operations by the end of this month.