Collin County district attorney denies employees' claims of sexual harassment
MCKINNEY, Texas - The Collin County district attorney came out swinging against a lawsuit accusing him of sexual harassment.
Flanked by staff members and his family, he presented "evidence" he said is proof the allegations are false.
This case has not yet gone to court, instead, the district attorney called a news conference to defend himself to the public.
In the courthouse where his office prosecutes cases, Collin County District Attorney Greg Willis presented evidence of a different sorts.
"I have been unfairly attacked, and Jill and I feel compelled to set the record straight," he said.
Flanked by his wife, as well as female staff and prosecutors, Willis responded to a lawsuit filed late last month in which several current and former employees accused him of sexual harassment.
PREVIOUS STORY: Collin County District Attorney sexually harassed, retaliated against employees, lawsuit says
The lawsuit also said his first assistant attorney, Bill Wirskye, created a toxic workplace.
"These accusations are false, the things they allege, simply did not happen. The truth is that the citizens of Collin County deserve better," Willis said.
Although the lawsuit is 75 pages, Willis focused on a handful of specific allegations, including a former prosecutor, who said during an exit interview that Willis "…proceeded to give her a full-frontal hug while her arms were stiff beside her body. He rubbed her lower back with his hands and pressed her breasts against him."
Willis played audio he recorded of the meeting, that he claimed shows the woman asked for the hug.
"Can I give you a hug?" she said.
"Oh, of course," Willis responded.
"Ah, you are so wonderful. Thank you so much. And I will see you around," she added.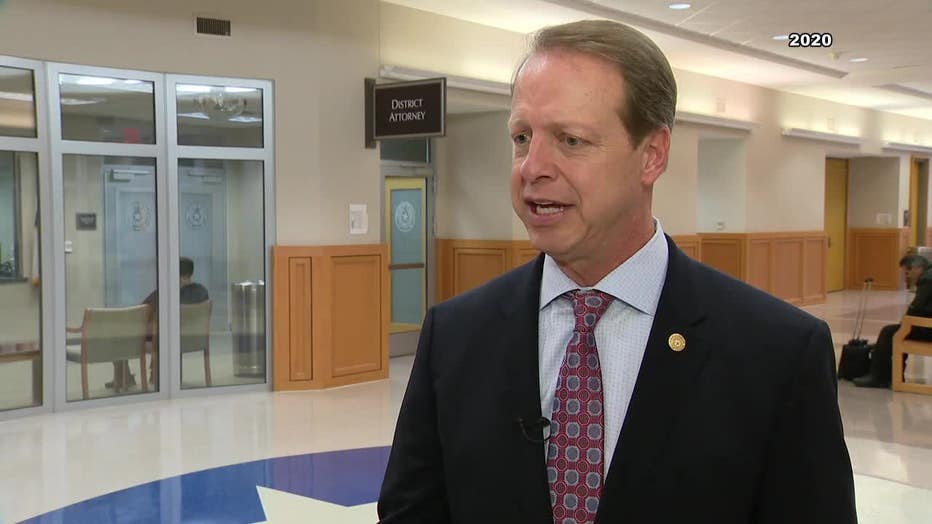 "The truth is now clear for all to see, what she said in this lawsuit did not happen. It is a lie. It is false," Willis said Wednesday. "And now everyone can just see how false, defamatory and outrageous this claims truly are."
Willis also shared letters written by some of the plaintiffs, which he said were unsolicited, that praise him. 
And his representatives published a website called collincountytruthfiles.com with those letters and the audio.
"So are we to believe in the same year where I harassed her three different times, at the end of that year, she says that I served as an inspiration to her and helped her to be the best version of herself every day?" Willis asked.
Susan Hutchison is an attorney for the plaintiffs.
"That is actually something that we have pleaded in the complaint was that he required them. He required incessant flattery and gratitude and that he berated those who wouldn't give it to them," Hutchison said.
Hutchison said the evidence presented proves nothing.
"I thought it was very bizarre that he would take the stance that he's cleared his name by cherry picking out a couple of paragraphs when there are over 150 paragraphs of allegations and six different people, several of whom he didn't even address," she added.
Hutchison also pointed to the full audio posted to Willis' website, but not played at the news conference.
It features the employee telling Willis about sexual harassment and abuse she experienced while working in the district attorney's office.
"I just don't want to leave on this very sour note, but there are many examples, and not just from me. I think everyone's just kind of afraid to say anything," the woman said in the audio recording.
Willis did not answer questions at his news conference.