Car crashes into Fort Worth house early Friday morning
FORT WORTH, Texas - A Fort Worth family is cleaning up after a car smashed into their home in the early morning hours Friday morning.
It happened just after 3:30 a.m., when a car smashed into the front of the home on Mosaic Drive.
"It was just like a big crash, a big collision. It kind of felt like an earthquake," said Iyanna Richardson. "The house was just shaking, and we woke up and there was just a lot of smoke."
A car going through your front door is definitely not how you want to end the year. 
While the home has some damage, the family is just happy to not be injured. 
It was an early wake up call for the Fort Worth family.
"It happened so fast, I just heard glass and I started running," Fareedah James recalled.
James and her daughter, Richardson, were home at the time of the crash.
"It just felt like an earthquake and the house was shaking," Richardson said. "I would like to thank God for shielding us."
READ MORE: One killed in shooting outside of popular Fort Worth bar
The crash knocked the front door off of its hinges and many of the front windows were broken.
A stop sign was ripped out of the ground and pinned against the house.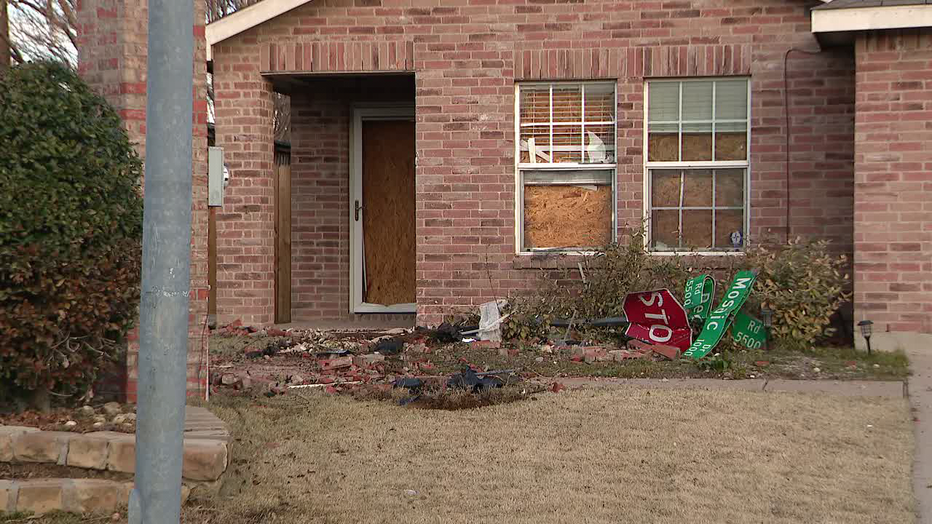 "I just thank God that my son was not in that room," said James. "Because it could have gone a different way."
Fort Worth police did not release many details about the crash, but the family told FOX 4 the driver identified himself as an Uber driver going home. 
"He said he was tired and works for Uber and fell asleep, and he said that is all he could remember," James said.
The driver was able to walk away from the accident without any significant injuries.
FOX 4 reached out to Uber and gave them the license plate number for the driver.
Uber said "the incident" did "not appear to be connected to the Uber platform."
The family said there were no other passengers in the car. 
"Just to have a car literally through your house, it is definitely traumatizing," James added.
Richardson said they just moved into the home four months ago, and this unexpected incident was not the bang they wanted to end the year with, but they are grateful no one was seriously injured.
"Other than my mom [not] being hurt and injured, he could have been injured as well and we are just grateful he wasn't," she said.
It's not known at this time if the driver was ticketed or if he was given a sobriety test by police.