Burglar steals guns from Fairfield store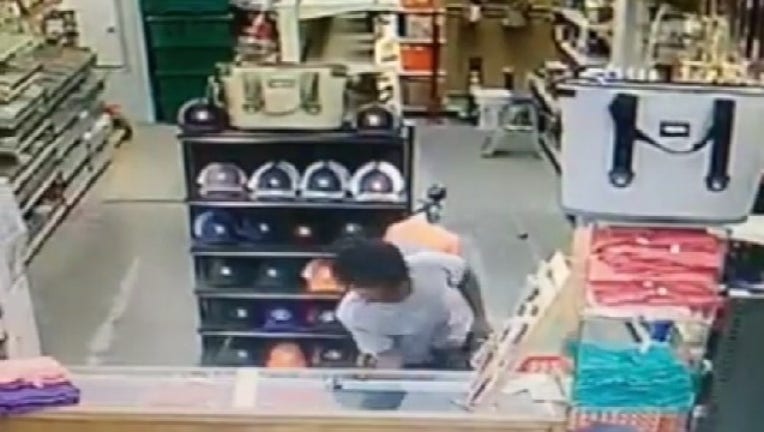 article
A man stole guns from a Fairfield hardware store in a smash-and-grab burglary in June in similar incident to a break-in earlier this week in Waxahachie.
The burglar entered the store on June 10 and took six guns from Capps True Value Hardware and Ag Center in Fairfield, about 90 miles southeast of Dallas on I-45. Store owner Ben Capps said the man used a hatchet to break the glass on the front door to gain entry.
"There was a lot of guns in there, but he only grabbed six," Capps said. "I guess he was in a hurry or scared."
The store immediately posted surveillance video of the thief on its Facebook page, along with a reward offer of $1,000. Video shows the man smashing a glass case and taking pistols.
"We have gotten several tips off of that," said store manager Barry Capps. "In fact, we've had some people come in and looked at it and literally said, 'That is so and so.'"
The tips have not led to arrests.
Exactly one month later, a big group of thieves – including one who looks a lot like the Fairfield burglar – rammed a stolen truck through the wall of Shooters Edge gun store in Waxahachie. They took 17 firearms that included pistols, high-powered rifles and a shotgun. Shooters Edge not reopened since.
"We can't open now because we don't have a wall and we can't secure anything inside the building," said store owner Chuck Edge.
Edge, a former Waxahachie police chief, said he may not reopen for three or four weeks. He said the timing of the break-in – three nights after the ambush attack in downtown Dallas – is troublesome.
"It's frustrating, but not just about losing the money," Edge said. "It's frustrating about the whole incident. Just the fact that the guns out there on the street with folks that didn't bother getting a background check."
The Bureau of Alcohol, Tobacco and Firearms, the FBI, U.S. Marshalls and Mesquite and Waxahachie police are working the Shooters Edge break-in.