VIDEO: Bull loose in Denton leads to three-hour chase
DENTON, Texas - It's all quiet again in a Denton neighborhood after a runaway bull got loose on Saturday night.
"We didn't expect to get that type of call that night," said Denton PD spokeswoman Amy Cunningham.
The bull was spotted in a residential area on Malone Street, just off University Drive north of the UNT campus.
He roamed lawns, driveways and more.
Initially, police got calls about a loose cow after it got loose from a trailer parked by the Taco Casa on W. University while the owner was eating.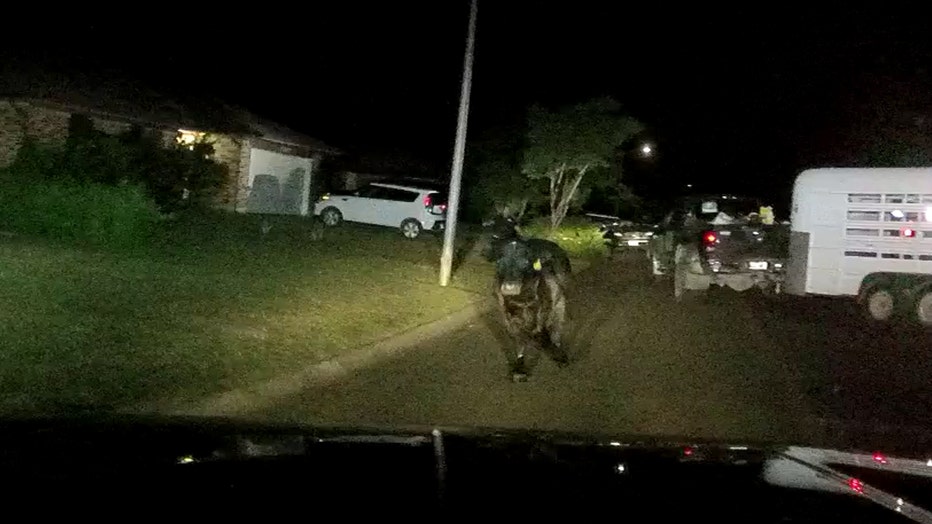 "It was not a cow, as it turns out. It was a bull, and he was not happy about trying to get back into his trailer," said Cunningham. "The owner had just stopped at a local restaurant and went in for a bite to eat somehow the trailer opened up, and the bull was able to get out. We're still looking into exactly how that happened."
A three-hour-long chase began around 9 p.m. with police, deputies, animal services and even helpful citizens trying to help reign in the loose animal.
The bull kept going until authorities got in touch with a local rancher who owned a tranquilizer gun.
The saga ended peacefully, with no injuries.
Finally, authorities were able to steer the massive animal back inside its secured trailer.
"You look up stories from other places about bulls getting loose, it's typically not a good ending one way or the other, so it was awesome we were able to work with some of our partner agencies, residents in the area to ensure this bull was able to go home."
Denton police are looking for surveillance video near where the trailer was parked in hope of it shedding light on how the bull got out to begin with.