Biden visits COVID-19 vaccine clinic as kids 6 months and up receive their 1st shot
WASHINGTON - President Joe Biden visited a vaccination clinic Tuesday to celebrate that virtually all Americans can now get a COVID-19 shot after the authorization of vaccines for kids under 5 over the weekend.
Biden visited a vaccination clinic in Washington, D.C., where some of the first shots were given to young children in the last major age group ineligible for vaccines, hailing it as an important pandemic milestone that will support the country's recovery. While anyone aged six months and up is now eligible for vaccines, the administration is cautioning that it expects the pace of shots for the youngest kids to be slower than older ones, as parents are more likely to rely on their children's pediatricians to administer them.
"The United States is now the first country in the world to offer safe and effective COVID-19 vaccines for children as young as six months old," Biden said at the White House.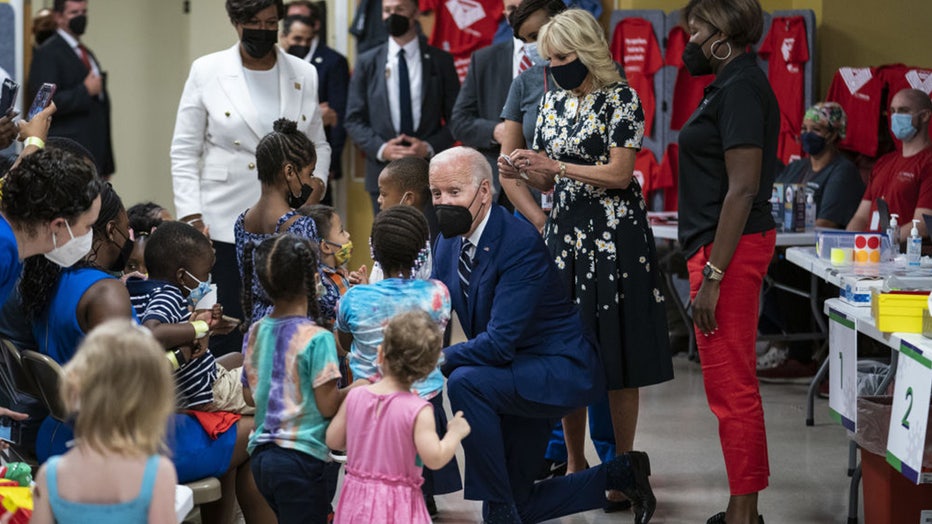 President Joe Biden speaks with children while visiting a COVID-19 vaccination clinic hosted by the District of Columbia's Department of Health in Washington, D.C., on Tuesday, June 21, 2022. (Sarah Silbiger/Bloomberg via Getty Images)
Addressing parents, Biden said, "I encourage you to talk to the doctor after you make a plan to get your child vaccinated."
Biden also delivered a thinly veiled criticism of Republican Florida Gov. Ron DeSantis, who blocked his health department from ordering and delivering pediatric vaccines in his state, a move the White House said delayed the availability of shots for kids under 5.
"Let's be clear: Elected officials shouldn't get in the way and can make it more difficult for parents who want their children to be vaccinated and want to protect them and those around them," he said. "This is no time for politics. It's about parents being able to do everything they can to keep the children safe."
Earlier Tuesday, he and first lady Jill Biden met with newly vaccinated kids and their parents at Church of the Holy Communion in southeast Washington. As he handed out hugs to kids, Biden spoke of his youngest grandson, Beau, aged two, being newly eligible for vaccination.
"Everybody knows I like kids better than people," he joked.
In a Friday interview with The Associated Press, White House COVID-19 coordinator Dr. Ashish Jha predicted that universal eligibility for vaccines would be a "huge psychological milestone" for the country as it seeks to emerge from two years of pandemic disruption.
"When the President came into office, he was very clear, he said over and over again, that he wanted to make sure that every American had the access and availability of these life protecting vaccines," he said. "We are now at the point where that vision, that expectation that mission can now be fulfilled."
The Food and Drug Administration greenlighted the Moderna and Pfizer kid shots on Friday and the Centers for Disease Control and Prevention recommended them Saturday. In the U.S., COVID-19 vaccines were first tested and given in late 2020 to health care workers and older adults. Teens and school-age kids were added last year. 
"This is certainly an exciting moment in what has become a very long campaign to vaccinate people against COVID-19," said Dr. Matthew Harris, an emergency room pediatrician at Northwell Cohen Children's Medical Center in New York. 
Many parents have been anxiously awaiting the rollout, and Harris said shots for his own 9-month-old are a "matter of when, not if.'' 
Roughly 18 million youngsters under 5 are eligible. 
"It's just a huge step toward normalcy,'' said Dr. Debra Langlois, pediatrician at University of Michigan Health C.S. Mott Children's Hospital. 
Biden, public health authorities and pediatricians hailed the moment, but they also acknowledged that getting some parents on board may be a challenge given disappointing vaccination rates — about 30% — in school-age kids. 
The American Academy of Pediatrics and American Medical Association were among physician groups that encouraged doctors and families to get young children vaccinated. 
The CDC advises vaccination even for those who already had COVID-19 to protect against reinfection, and says it is OK to get other vaccines at the same time. For the littlest kids, there's Pfizer's three-shot series or Moderna's two shots.