Basketball coach testifies about Jordan Edwards' skills during former Balch Springs officer's trial
BALCH SPRINGS, Texas - On day two of the wrongful death trial against the Balch Springs police officer convicted of murdering a 15-year-old boy, his former Mesquite High School football coach took the stand. 
He testified about Jordan Edwards' skills as an athlete and also his strong work ethic. 
While Roy Oliver has already been held criminally responsible, this trial is about also holding him financially responsible once he is released from prison. 
The jury heard Jordan was a rising star.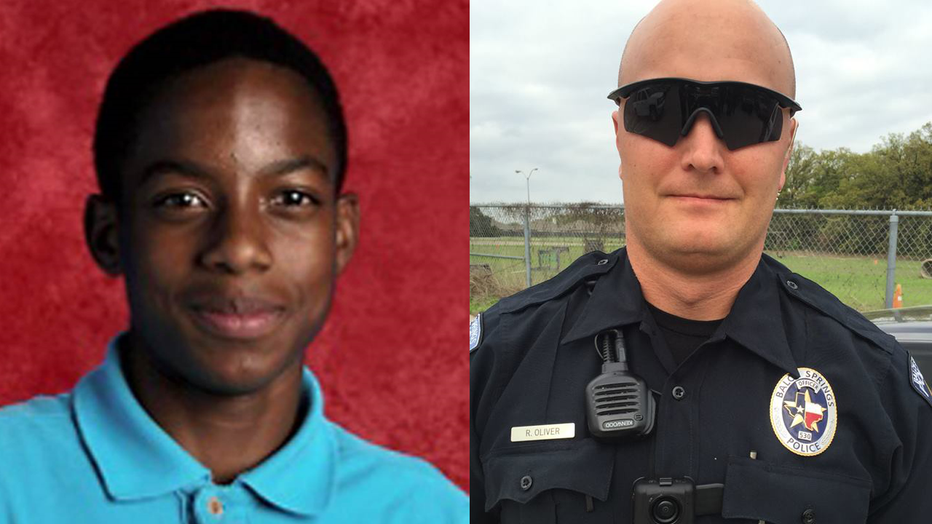 FOX 4's camera was not allowed in the federal courtroom as former Mesquite High School Football Coach Jeff Fleener took the stand, but he spoke to us later outside. 
Fleener's nickname for Jordan was 'Smiles.'
"Someone having a bad day would mess with them to get them to smile. If ragging on him because he did something silly, he would laugh at himself," he said.
Fleener only knew the high school freshman for six weeks. But in those weeks, John had already made an impression. He says John had what it took to be a division one college football player.
"His dream was to play football at Alabama. People ask me about that all the time. I can tell you the potential was there," he said. "He had the body frame for it, the work ethic. As a coach doing this a long time, he had every opportunity to play at the highest level. 
Alabama Coach Nick Saban sent the family an autographed Alabama jersey with his number 11. 
Family attorney Daryl Washington says this case is the last way to get justice for his family. 
"The thing that bothers the family the most is he is still not, after the jury found criminally responsible, he is still not admitting what he did was wrong," he said.
Former police officer Roy Oliver is serving a 15-year sentence for killing John, who was unarmed in a vehicle that was leaving a house party in Balch Springs.
The city itself is immune from liability as a municipality. That is something Washington says should change. 
"If you don't have to be accountable for acts of employees, that gives you no incentive to hire the best," he said.
Oliver was wearing the same suit and tie Tuesday as the day before. He did not show any emotion during testimony but did take notes.
Oliver is expected to take the stand in the case. Since it is not a criminal case, he cannot plead the fifth.