Balch Springs grass fire spreads to 26 nearby homes
BALCH SPRINGS, Texas - More than two dozen homes were either damaged or destroyed after a wildfire spread into a Balch Springs neighborhood.
The city fire marshal says the Monday fire was accidental and was sparked by a crew mowing a nearby field near I-20 and Beltline Road.
The city of Balch Springs only has about eight firefighters working on any given day. There just wasn't enough of them to stop the fire from spreading so fast.
In all, 26 homes were damaged and nine were destroyed. It quickly grew out of control. 
People living in the neighborhood described a chaotic scene, watching what started as a grass fire grow, threatening their community and destroy multiple homes.
"I could barely breathe or see," recalled Ashley Anderson. "And I went in the house and got my kids. We ran out." 
"I have been here for over 20 years and have never seen anything like this," said Balch Springs Fire Marshal Sean Davis. 
The fire started just before 4 p.m. Crews got there quick to try and put it out, but gusty winds spread the fire north right into a neighborhood.
Rachel, who didn't want to share her last name, says her home is a loss.
"I t was out. The fire in the backyard was completely done," she said. "And then it just started catching other house on fire."
But some of her neighbors' homes were spared.
Sebastian Green rushed home from work to start spraying water on his lawn.
"The flames I am scared is going to jump over and cause a grass fire. So I am just trying to keep the ground moist," he said.
Sebastian's wife, Jonelle Green, was home as the fire approached their neighborhood.
"First, we started smelling smoke and my son came out and it was so dark out here. The wind was blowing and blowing," she said.
Anderson says she first saw the fire from the road and then realized it was in her neighborhood.
"They said water the lawns to keep a barrier. I did that," she said.
With a heat advisory in place and temperatures above 100 degrees, firefighters had to take multiple breaks and work in shifts to stay hydrated while battling the flames. 
The Red Cross is assisting families impacted by the fire at a nearby rec center.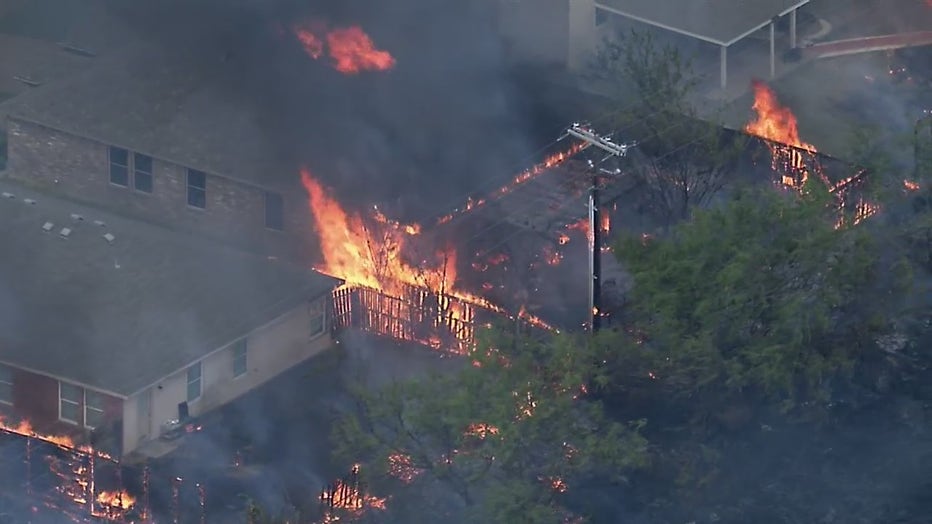 Jordan Gomez's family lost everything. The 17-year-old just barely got out of his home before it was engulfed in flames. He's been living there with his parents and two siblings. But right now, their home of more than a decade is a total loss. 
Jordan says at first he saw smoke in his backyard, but he didn't think much of it. He thought someone was having a barbeque. But minutes later, he heard a knock on his door and was told to get out. He grabbed his family's dog and left. He says he was moments away from taking a shower. Had he done that, he may not have heard the door. And judging by how fast the flames spread, he's unsure if he would've made it out.
"And then I walked outside, and I'd seen hella smoke," he recalled. "I went back inside. Then minutes later, the cops came. They were like, 'You got to go outside.' And I was like alright."
A shelter has been set up at the city's recreation center for people who have been displaced. Red Cross has also been set up there. They will be there for a couple of days.