Authorities to build up presence before oil pipeline ruling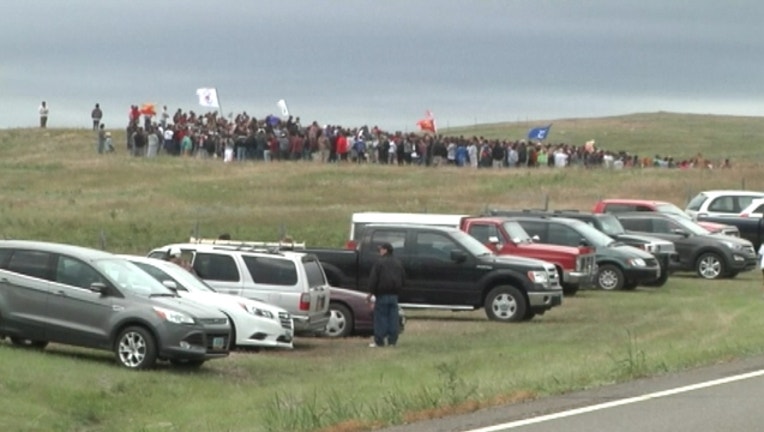 article
BISMARCK, N.D. - North Dakota authorities are recruiting law enforcement officers from across the state to guard the site of a protest in anticipation of an impending federal ruling on whether to block the construction of the four-state Dakota Access oil pipeline.
The buildup, announced Wednesday, comes after a skirmish between protesters and private security guards on Saturday that turned violent; the crowd dispersed when officers arrived, and no one was arrested. Authorities also said they pulled back Tuesday from responding to a report of 150 to 200 protesters, some with hatchets and knives, gathered at a construction area on private land because they determined it wasn't safe to respond.
A ruling is expected by Friday on the tribe's challenge of the U.S. Army Corps of Engineers' decision to grant permits to the Dallas -based operators of the $3.8 billion Dakota Access Pipeline, which will cross North Dakota, South Dakota, Iowa and Illinois. The tribe's lawsuit says the project violates several federal laws, including the National Historic Preservation Act, and will harm water supplies for the reservation's residents and for millions downstream, as well as disturb ancient sacred sites.
The local law enforcement department is bracing for a decision that would allow the project to proceed while a spokesman for Gov. Jack Dalrymple said "the governor has always said the National Guard is an option."
"We are preparing and planning for all scenarios that may occur in response to the federal court ruling," the Morton County Sheriff's Office said in a statement, which didn't detail how many officers were being added or what their plan is should the ruling allow construction to continue.
Standing Rock Sioux Chairman David Archambault II said he is not concerned with the additional law enforcement presence at the site of the protest, where thousands have camped out for weeks, and that the judge's ruling will not stop the protest either way.
"This is not going to be over on this one day, whether he rules in our favor or the company's favor," Archambault said. "Both sides will appeal so this will not be over."
He noted that he saw very few law enforcement personnel near the protest site Wednesday and said he's appealing to protesters to remain "peaceful and prayerful."
The pipeline company, Dallas-based Energy Transfer Partners, said it would not comment regarding who is providing the private security detail, which has been in place since last month, or what they've been told to do when facing protesters.
Already, the Morton County Sheriff's Office estimated it is spending $100,000 a week in overtime costs to monitor the protests, and the North Dakota Highway Patrol is spending $65,000 weekly to do the same.
But no law enforcement personnel were present Saturday, when tribal officials said construction crews on private land destroyed several sites of "significant cultural and historic value."
Energy Transfer Partners said "assailants broke through a fence and attacked our workers," and the sheriff's office said four private security guards and two guard dogs were injured.
The tribe countered that protesters reported six people had been bitten by security dogs, including a young child, and at least 30 people were pepper-sprayed. Archambault said the protesters were "provoked" by the company's actions.
The tribe won some reprieve from construction work Tuesday, when U.S. District Judge James Boasberg ordered a stop for about 20 miles of the pipeline until he ruled on the tribe's broader challenge.
Dalrymple spokesman Jeff Zent said plans are also in the works to "enhance" patrols in Bismarck and neighboring Mandan, about 40 miles from the protest site, but those coincide with an annual powwow that draws hundreds of dancers from around the country.